The perfect accessory to suave summer barbecues and beach days with bae or babes by the bay is, of course, rosé. The problem is, that in our efforts to keep track of all the latest fashion trends, and go to work, and, somehow, find time to eat, sleep, and gym, we can't really keep track of all the variety of vineyards and vintages which we should be. Sure, we have our go wines, but if we ever want to venture out and try something different we're left with a choice between the Internet's recommendations, which, no, and bugging the person at the shop, which we always feel a little guilty about.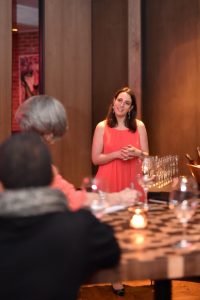 Luckily, for this summer, there is a better way. I had the opportunity to join Hortense Bernard, the general manager of Millesima USA, at the Kola House last week for a summer wine tasting and a quick rundown of all things Bordeaux. Just to give a little background info, Millesima is one of the largest buyers of wine futures in the world and the undisputed leader of Bordeaux rosé. There were hardly better hands, or, I guess, noses, to be in.
The tasting got off strong, with a Drappier Brut Nature Rosé. Although it might make you think of the English word "brutal," the wine was anything but; in this case, "brut" is a French term which just refers to how dry or crisp a certain selection is. The second descriptor might be a little closer to what you think when you hear "natural," although, as I have since found out, it refers more to the dosage of the batch than anything else. What we had was a zero dosage champagne, which means that it didn't have any added liqueur d'expedition, a mixture of sugar and liquor which most champagnes take after their sediment is removed. I think I preferred it that way. The bubbles were enough of an accent, and the subtle notes of berry and elm reminded me of the kind of bare, stripped down, a floral beauty which Hubert de Givenchy languished in.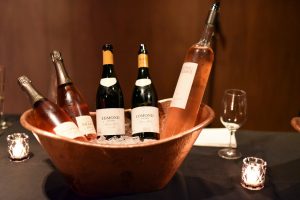 The second selection was another rosé, from the Chateau Peyrassol collection. Now, this was the one I got a little confused on because I thought that the winery was actually called Commanderie de Peyrassol, and traced its roots back to the estate which used to house pilgrims on their way to the Holy Land. I'm not some wine history buff by the way; I only know that because that estate was owned by the Knights Templar and I was into conspiracy theories and rural France for a while. Anyway…
So it turns out that Commanderie and Chateau are actually the same place. "Chateau" is the modern, general word used in Bordeaux for the vineyard. It gets confusing again because there are two different wines both called Cotes de Provence. Commanderie de Peyrassol is kind of the basic rosé which showcases the unique terroir of the estate. Chateau de Peyrassol, the one we tried, is like that to the next level. Of course, in taste, there's hardly anything basic about it, and, speaking of Holy Land, you will definitely be singing about choirs of angels after a glass or two. The combination of direct press method and cold maceration (whatever that means) gives the wine a crisp finish, which really complements its dry, full-bodied melody.
Last but not least was the Edmond Sancerre from Alphonse Mellot. This was actually a white, not a rosé, but its tantalizing citrus aroma and succulent wildflower undertones definitely earned it a spot in our summer soiree. For some reason, and it might have been by mental analogy to the way giant, juicy flowers attract bees, I thought of those ginormous wicker hats which usually herald Hamptons season. Conspicuously, they were absent from the summer tasting. So, just to bring it back to fashion for a second, as you think about ways to beat the heat this summer maybe, instead of wearing your own personal umbrella, you could reach for a bottle of nice, chilled Bordeaux.