How an urban jungle created the urban streetwear of Timo Weiland
Beneath the metallic canopy of skyscrapers, an urban jungle hums with life to the beat of high heels and street musicians.  It is New York City–a wilderness of cultural innovation where wolves of Wall Street and foxy fashionistas roam. Exploring this untamed land are three fashion renegades on a pilgrimage to weave the threads of New York culture into timeless designs with a sophisticated edge. These pilgrims venture further and further into the New York wild, leaving no street or avenue unseen. This is the Timo Team and just like the city, their fashion is wild with gritty urbanity.
Co-founders Timo Weiland, Alan Eckstein and Donna Kang became captivated with the carnivorous culture of the city at a young age. Musicians, marketplaces, magazines–they found inspiration on every street and in every alleyway.
Weiland states, "We came together as a team over a shared love for music, streetwear, and downtown New York." The Team, however, was enthralled with more than just New York. It adored its history–the grandfather fads that spurred the modern workings of fashion.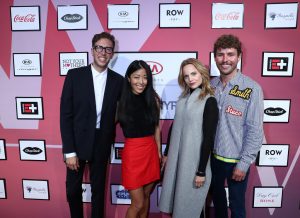 Weiland states, "From an early age, I was always collecting and re-working vintage and hand-me-downs." In 2010, these quirky, life-loving designers united to form the Timo Weiland brand, a streetwear line for men and women. Timo's designs master the elegant balance of the clean 1950s prep and the edge of latter 20th-century fashions. Timo prides itself on the diversity of its designs, leaving journalists awestruck to find the words to describe their sophisticated pieces.
Kang states, "We've had very direct influences like Keith Haring and urban-inspired prints in the spring of 2012. The preppiness of 50's rock is a reoccurring theme for us with elements of it sprinkled throughout the years."
Eckstein says, "We are a team with so many interests. We love the relationship between men's and women's clothes and the dialogue that our line can have between the two. "
Kang also states, "It [Timo Weiland] was a natural reflection of who we are–a mix of up- and downtown with great care given to detail."
Besides its diversity, Timo is also an approachable brand. Unlike many of the snooty fashion lines that stick their noses up to general audiences, Timo works to bring its ferocious fashion to all. The Timo Team believes that a brand inspired by the city should be made for the city. "We set out to dress ourselves and our friends in what we wanted to wear, what we wanted to see our peers in," says Weiland. Eckstein also says, "We inject fun and truly don't want to make stuffy fashion products."
The latest Timo design to hit New York Fashion Week is the Crowne Plaza collection. Inspired by the handsome culture of the hotel and the people in it, the Timo Team created designs that embodied the modern sensibilities of preppy businessmen and world travelers. Eckstein loves the hotel, "the brand and the executives that took a chance on us to deliver modern and fun uniforms."
Kang states, "Working on the Crowne Plaza collection throughout the year made us return more closely to the art of dressing.  Our preppy take became more handsome with an eye on the play between soft and tailored pieces."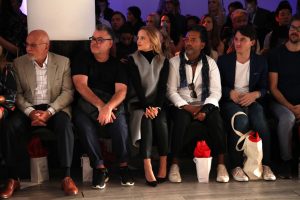 Timo will continue to work on their Crowne Plaza collection this year, incorporating its worldliness and elegance. Kang states, "We are excited about delving deeper into the design world that the Crowne Plaza project has introduced us to, encompassing more than clothing but lifestyles too. "Weiland concludes, "As a team, we are naturally born travelers, but sometimes the best (and most inspiring) adventures happen right here at home in NYC!"