Friday marked a significant day in hip hop history and to music fans all over the world. Out of the few notable artists who made the inductee list for the Rock and Roll Hall of Fame this year, one particular artist stood out. One of the most legendary artists of all time, Tupac Shakur, was inducted into the Rock & Roll Hall of Fame. In 2015, The Grammy Museum in Los Angeles curated an exhibit dedicated to Tupac and his original works of art. The All Eyes on Me exhibition displayed original notes he wrote such as his desire to make Powamekka Cafe, a place where anyone can come to free their mind and leave negativity at the door. The actual Gucci suit he wore to the 1996 Grammy Awards was also on display.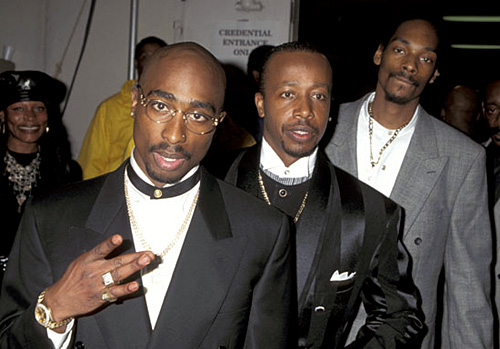 When I read about this last week, feelings of gratitude and peace filled my soul, but also sparked a few questions. How was Pac not in the Rock & Roll Hall of Fame already? My second thought was what would he wear to the ceremony if he were still here today? Could you see Tupac rocking any fuck boy looks (long parka jackets, camouflage sweats, and air maxes)? Or would he rock his classy 3 piece suit, gaudy necklaces, rings, and fedora hat as he did in the past? Would he be using a stylist? I personally would hope he stayed true to his style roots and rock three piece suits. Tupac was never a follower, especially when it came to fashion. In all the ways he expressed himself, through writing, attire, in interviews, he was never part of the norm.
I took a deep dive of what Tupac wore back in the 90's and picked out a few highlights. His thoughts and beliefs were much more dynamic than the rest of the world's, which made his style memorable, unique and classy. He was definitely a Versace man.
The Rock and Roll Hall of Fame will premiere on HBO April 29th 8 PM.