The Fashion Capital
Experiencing everything that Paris has to offer within a five-day vacation can seem overwhelming at first. However, once you've conquered all your surrounding tourist attractions, you may feel a little lost on what to put next on your agenda. Fashion 360 is here to bring you some très chic options to explore! (All places listed are casual wear friendly!)
Shopping: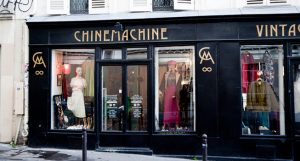 Besides being known as the "City of Love", Paris has also garnered a reputation for having some of the best vintage shopping in the world. In the 18th District, near Montmartre, Chine Machine offers mint condition vintage Saint Laurent blazers, Missoni sweaters, and A.P.C. jeans at prices that will make you scream "ouh la la!" Across the street from Centre Pompidou lies MAD Vintage. With an assortment ranging from cowboy boots to boilers suits, you'll surely find a one of a kind piece to bring home with you.
Drinks: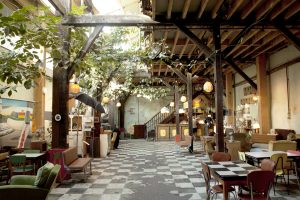 Le Comptoir General proves to be cool enough for the French, as this back alley hangout boasts a sea ship in the middle of its retro-feel lounge, live music and an arcade room featuring all of you favorite throwbacks. In the mood for something a little more upscale? Experimental Cocktail Club in the 2nd district is a suitable option, as this à la mode hangout serves original cocktails and a playlist you'll want to Shazam.
Eats:
Craving a latte in bed? Head over to Pavillon de Canaux, or otherwise known as "La Maison" to locals. This homey café lies next to Bassin de la Villette, offering views of the waterway from every room. Lie in bed or bask in a bathtub while sipping on local artisanal coffee. Indulge in their scrumptious raspberry pistachio rolls or opt for their exceptional almond croissants. For escargot and blanqueete de veau, head to Au Rocher de Canale, where you can find any traditional French dish your heart desires.
See:
If you're over the Louvre and seen more Matisse than you'd like to, check out 59 Rivoli in the 1st district. The gallery houses thirty working artists who've transformed the space into a visual masterpiece. Rivoli also holds free concerts every Saturday and Sunday at 6 pm. Strolling the scenic streets of Paris is a pastime like no other! Make your way towards Rue Des Petits Carreaux in the 2nd district, where countless patisseries and cafes line the street. Belleville is evidence that graffiti can truly be art, as this neighborhood between the 19th and 20th district is home to an abundance of murals. Street Art Paris offers walking tours through the artists' hub every Saturday and Sunday for twenty euros. If you're not up for the two and half hour excursion, wander down Rue Deyonez. This graffiti-covered street provides the perfect excuse to update your Instagram feed.