As we dive into summer, the first few events tend to center around this special ceremony: Graduation. It's a word packed with sentimentality, pride, excitement, and tasteful attire. Whether it be a daughter's, nephew's, or a friend's graduation, it's up to you to look your best in the pictures that will be kept in albums for years–and trust me, there are tons of pics that will be posted all over social media too. With consideration of this season's developing trends in mind here are some key items to gravitate towards in order to rock a stylish look during grad.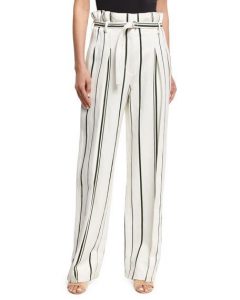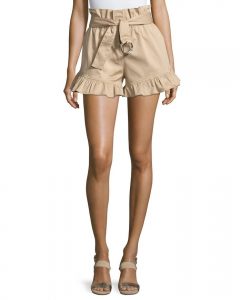 These days, the stereotypical and short sundress is out. Gone are the lace-y, halfway up your thigh, bralette-requiring frocks. Twenty Seventeen is the year of sophistication and bold fashion patterns. You no longer have to worry about the seating or wind situation at the event because it could be in your best interest to wear a pair of pants or longer dress fashion-wise anyway. In fact, trousers, shorts, rompers, and jumpsuits have begun to make a comeback in the trendiest manner possible. For example, match these striped Paper Bag Waist pants with a tighter, sleeveless, black top or even a solid blouse. Use the khaki, frilly shorts as the foundation to support a sandal heel and vibrant, ruffled blouse–perhaps even a loose-fitting, light turtleneck. Seriously, with trousers and shorts, the possibilities are endless in terms of tops; one article of clothing can dress you up or down, according to the type of graduation you're attending. Then, there is the classic jumpsuit and romper; the floral, striped, dressed-up denim, color blocked, and off the shoulder styles are especially in this summer. Most of these popular styles also apply to the longer, tropical, summery prints on Midi sundresses.
While the outfit itself is the main part of one's look, the smaller accessories also hold importance during graduation for practicality and aesthetic reasons. If you remember to pack one thing, make sure to have a trusty floppy hat. Some ceremonies held outside can last for hours without umbrella shade, burning your shoulders and back of your neck to a millennial pink crisp. On that note, your precious eyes will also thank you when you bring a pair of sunglasses. If you're worried about the addition of shades affecting your totally stylish outfit, try finding a pair with clear frames and mirrored lenses– a flexible as well as a trendy accessory. As for handbags, you don't need a lot of things to carry you throughout the graduation itself and after parties. A cute Loewe pouch, Givenchy mini duffle purse, or a more casual Bembien Rose bag can do the trick. Honestly, it's the perfect time to experiment with fun, kitschy type of clutches and purses.
You can go flirty and fun or classy and modern during grad. Mature the outfit with a pair of corkboard wedges, traditional nude pumps, or stick with espadrilles for stylish comfort. Also, take a nice cardigan or blazer along with you to drape across your shoulders for sun and wind protection. Whatever you choose to wear when attending a graduation, make sure to account for practicality and to flaunt your clothing with confidence. You may not be the star graduate, but eyes will be on you for sure!