Little girls with pink plastic crowns and loose baby teeth marvel at the glossy pages of Cosmopolitan and Vogue. They hold a storybook in their hands that tell the tragic tale of the 21st-century woman. An emaciated woman made beautiful by Photoshop and thousand-dollar gowns. A fragile woman made feminine by her buff, hyper-masculine male counterpart. A woman who is the princess of perfection. And, these little girls will shortly realize that the only way to become a princess too is through calorie counting and diet pills. This is the pollution of perfection.
Throughout the centuries, every culture has always maintained an idealized vision of beauty. From ancient Greece's idolization of plump, full-figured women to the American supermodel era that hailed toned arms and athletic contours, the perfect body has always encompassed health and tangibility. That is until the 1990s spoke the following words  they could never take back, "Nothing tastes as good as skinny feels."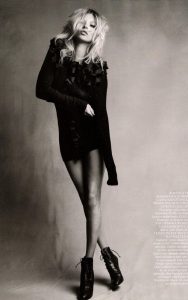 As the genre of grunge became prominent throughout the masses so did new fashion trends that catered to this rebellious, edgy attitude. This spurred the "heroin chic," with Kate Moss' waif-like, drugged look as the pinnacle of the campaign. This movement continues to remain prominent in mainstream fashion. While in 1968, the average model was only 8 percent skinnier than the average woman, today's models are a staggering 23 percent skinnier.
Since then, Western audiences have been under immense pressure to achieve this post-labor camp physique. The idealization of this continually shrinking body type has moved thousands to pursue in disordered eating, self-loathing, and shame. The National Association of Anorexia Nervosa and Associated Disorders cited that nearly 70 percent of girls between grades five through twelve stated that magazine images influenced their conceptions of the body
Though this body-shaming epidemic still occupies the magazine racks near the check-out centre of our local minimart, a revolutionary campaign has grown to challenge mainstream conceptions of beauty. The body positive movement is a campaign that accepts and admires the beauty of all sizes, ethnicities, genders, and sexualities. The body positive movement stems from the fat-acceptance movement of the 1960s, a movement brought about by second-wave feminists concerned with the prejudice in body politics. In recent years, the body positive movement has gained tremendous notoriety by major companies like Women's Health and Pirelli's Calendar.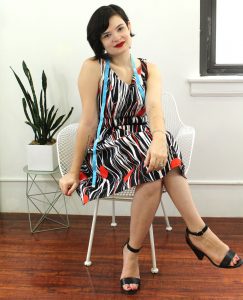 However, there is one fashion designer that has taken the body positive movement by storm. Mallorie Dunn is the founder of SmartGlamour, an ethical clothing line based in New York that embraces people of all shapes and identities. Since her youth, Dunn has been fascinated with fashion and the freedom it brought her. "Growing up, I used clothing as a form of personal expression," Dunn says. "And as a way to have fun, enjoy my presentation, and enact the different ways that I feel every day."
Eighteen-year-old Dunn moved to New York City where she received her fashion degree from the Fashion Institute of Technology (FIT) and her teaching degree from Pratt University. During her time as a FIT student and her later job as a designer for Juniors, a clothing line for young teens and petite adults, Dunn grew disillusioned by the issues of mainstream fashion. "Those experiences are what really informed me on the fashion industry at large like how things are made and sold and about the unethical practices that exist in the fashion industry."
After two years of working at Juniors, Dunn disenfranchised herself from mainstream fashion to create SmartGlamour. "I used clothing as a vehicle to challenge the idea that clothes should only be made and worn by a small percentage of the population."
SmartGlamour has been widely successful in giving every and any person a place in fashion. While SmartGlamour has generally received positive feedback, there have been some opposed to the fashion line. "I have definitely dealt with negative responses to me displaying my clothing on fat bodies because we live in a very fat-phobic society." Though Dunn structured her line around body positivity, the term was not yet used in mainstream media until after she began selling her products. Nevertheless, Dunn sought to make SmartGlamour an activist in the politics of fashion.
"I don't know many brands are really speaking on the political aspects of fashion. Something that's a keystone of SmartGlamour is that in between our fashion shows and collections, we do campaigns and have conversations about all of these things.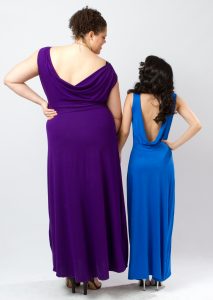 SmartGlamour wants to include people of all identities, ethnicities, sizes, and shapes. We also want to show others that we support them too."
Dunn is planning to continue SmartGlamour's AllMeansAll campaign by promoting disabled people as well as people over the age of 45. SmartGlamour is also doing a secret video shoot in mid-July that will  provide some exciting information possibly about the future of the line.