Images by: Madison Voelkel
CELEBRATING THE SENSE OF SMELL
N Baranes, the head designer of The Eight Senses, is inspired by the familiar and the mysterious way we take in the world around us. The senses have guided her to create a women's contemporary clothing brand that is intuitive, purposeful, and beautiful. But eight senses, you ask? Along with the five senses of sight, smell, sound, taste, and touch, and the sixth sense of intuition are N's original additions of common sense and a sense of humor.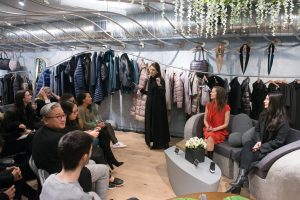 N is taking The Eight Senses clients on a sensory journey. Each month, she invites her guests to immerse themselves in the celebration of "One Sense at a Time." For the Scent Event, the Soho flagship boutique was transformed into a magical hanging garden. Walking in from the winter cold, guests were greeted by flowers draped sensuously on the flowing ceiling fixtures, trailing softly above their heads. A scent table offered a sampling of colorful, aromatic botanicals, and featured exclusive fragrances by MiN New York. Guests mingled and browsed while sipping prosecco and munching on a delicious assortment of vegetarian bruschetta. Featured speakers were aromatherapist Tamalyn Miller and MiN boutique manager Natalie Morlino.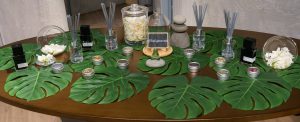 The sense of smell is the most sensitive of our senses, and directly related to memory and emotion. Natalie introduced guests to MiN New York's Scent Stories, fragrances inspired by the feelings and memories of distinctive places and experiences. Guests played with the pairing of scent and style, choosing an Eight Senses piece to go with each of three sampled fragrances. MiN's Shamen, a sultry, modern-day love potion, paired perfectly with a plush, faux fur Color Collar jacket.
Tamalyn, who looked stunning in a red silk Eight Senses Drape & Go dress, presented a curated selection of eight essential oils. As she passed around blotters scented with each oil, Tamalyn shared the origin and usage of each. We learned that essential oils are sourced from different parts of the plant and are powerful substances that can offer physical, emotional, and spiritual healing. Tamalyn encouraged us to focus on our mood as we breathed in the scent of the oils. Lavender relaxed us, while bergamot uplifted.
The evening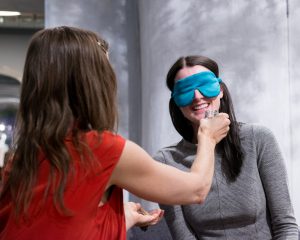 ended with scent games. Each brave volunteer donned an eye mask and tried to guess a substance using only their sense of smell. "This is really difficult!" exclaimed one participant. Ginger, cinnamon, and cumin were correctly identified and rewarded with gorgeous prizes; Eight Senses accessories like the multi-pocket Scarf In Case. Everyone left smelling fabulous and with a greater appreciation of the world of scent.