Founded in Orange County, CA, Haus of JR is here to transform your kid's wardrobe into a chic repertoire. Husband and wife, Chris and Sophia founded the brand with the idea of curating clothes for the cool kids. Their vision was to transform basics into trendy yet timeless pieces, taking denim and everyday essentials to the next level.
All of Haus of JR clothes are unisex, making it perfect for siblings to exchange outfits regardless of their gender. With ideas coming from what is trending in the adult fashion industry, you know your children will be the coolest kids on the block.
Fashion 360 Mag sat down with Chris and Sophia an inside scoop on their brand.
How did the idea of curating kids clothing come about?
My husband and I created Haus of JR when our daughter Jordyn was about 1.5 years old and Ryder was just born (they are the JR in Haus of JR). We felt there was a lack of brands and outfits that fit our lifestyle and our kids' personalities. Kids are a reflection of their parents and for us, we thought it would be cool to create pieces that we were into mini size!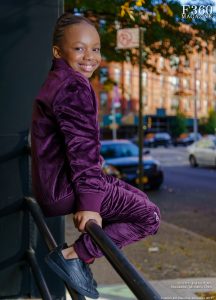 How important is it for you that all of your pieces are unisex?
Jordyn was definitely not the girly girl and my husband and I were all about elevated basics. We knew we wanted a big family, thus creating pieces where a sister can hand down an outfit to her little brother and have him look just as cool was what he had in mind.
What are your favorite pieces from your new collection?
There's so many, its difficult to choose! The Ryder distressed denim is probably my favorite everyday essential. It was part of our very first collection and became a core piece of Haus of JR. Also, the Wyatt souvenir jacket is definitely a must-have.
How do you come up with each collection concept?
Each Haus collection is made up mostly of pieces that we like to wear, just in mini size. My husband Chris and I, go along with our art director, Michael Smith as he brainstorms for each collection. We put into account what we like and what is trending currently in the adult fashion world, and that is how the collections come up.
Will you be opening a brick and mortar store in the near future?
It will be amazing but probably not anytime soon. We are so grateful and amazed to be in some of the coolest boutiques all over the US! Some stores that don't usually carry kids clothes even picked up our collection.
Where do you see the company in the next 5 years?
We hope Haus of JR to be a mainstay in the kid's fashion world for a long time. In 5 years, we see our kids becoming more involved in the brand. It all started as a family business and we like to keep it that way because for us family is everything.
Give your kids, the gift of House of JR today!