A Conversation with Roberto Ramirez Laverde Frías
Earlier this week we had the chance to chat with Swizz Beatz about his No Commission platform, his partnership with BACARDÍ, and his vision for the future. Now, we had the opportunity to chat with a Bacardi executive and get his perspective on the collaboration and Miami art week event.
Tell us about the No Commission platform from a brand perspective.
Our partnership with Swizz Beatz and The Dean Collection on No Commission has been very good for us. Bacardi is a family brand that has strong roots in the arts and music. Facundo Bacardi, the founder, was very involved with the arts and so supporting the community is a core mission for the company. Collaborating with Swizz, someone who is very creative and has contributed to that mission while creating a unique experience for our consumers. For us, blending music, cocktails, and art at No Commission events has allowed us to genuinely connect with our core millennial consumers.
How has the platform helped elevate Bacardi?
This is our sixth No Commission event over the past two years – we've been to the Bronx, Miami Shanghai, Berlin, London and now back in Miami. Each one has been successful and each one keeps getting better. Bacardi wants to appeal to a new generation of consumers, millennials. In order to attract them, we have to understand their needs – millennials want to be a part of making history and No Commission is a platform that allows them to feel like they've left a mark for future generations.
From an internal perspective, the brand gains a lot through events such as No Commission as it increases moral within the different teams. Employees feel proud to work with a brand that supports the arts and puts these events together – our millennials employees in particular.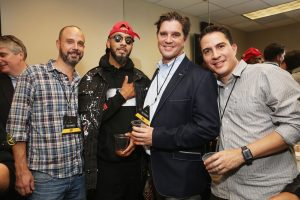 Tell me about your personal experience with the No Commission platform.
I started with Bacardi in the U.S. about two years ago and my first event with the company was the No Commission launch event during Miami art week. We have evolved since that event with each event showcasing its own aesthetics and themes.  Swizz is very creative and working with him has been great. The whole team works alongside Swizz as he is collaborative and open.
This year's No Commission Miami event has a Caribbean theme, which we're calling "Island Might." Given that we are a brand with roots in the Caribbean, it's been very important for us to share this side of our culture. So far this event has been my favorite and I've been looking forward to it.
*This interview was conducted in Spanish and was translated.