His  advice to finding your passion, challenges, and not following the rules
Swizz Beatz, according to Kanye West,  is the "best rap producer in the world." Not only does he produce beats, but he has a passion for art.
"I'm not a morning person, " Swizz tells me as we begin our conversation about his challenges, his passions, and his No Commission platform. "I usually get to bed at around 4 or 5 am after I leave the studio." "I divide my life based on what I have going on such as music, art, family, if something doesn't fit in that, then I don't bother." Also the fact that his wife is a great planner. Around his home, one can see he has paintings ranging from colorful to more serious pieces. He alludes this to his wife and him picking pieces together and each having a personal touch.  He has always been interested in art and sometimes paints to de-stress, but he says that he has no plans to start selling his artwork as there's many artists he has to help first.
Aside from being a highly successful artist, there are many palettes that he has begun experimenting with. This month he graduated from Harvard Business School, the genesis for his No Commission platform.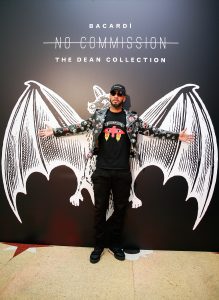 During his first year at business school, he started researching case studies and how he could best help artists. Based on his research he decided to create a platform where artists could keep 100% commission unlike some galleries that keep up to 50% commission. According to Swizz the hardest part was actually starting the platform and getting started. Once he started working on his vision, the pieces started falling into place including his partnership with Bacardi as collaborators of the platform and eventually they reached a deal.
Resulting in a win for everyone.
With this new partnership, Bacardi has been able to reach millennials and increase brand awareness. Tasked with precisely that,  Swizz became the Chief Creative for Culture where he aims to bring a fresh perspective and connect with a new generation of consumers. With his keen eye for business, rule breaking attitude, Swizz has slowly changed the paradigm of the art business by combining music, art, drinks under the same roof, all for free. Anyone can come and enjoy this event, from the rich to the working class, we have art that ranges from $50 and up, he said.  Unlike traditional conventional Art Basel galleries where entrance tickets can cost upwards of $50, plus art pieces that are priced ridiculously high, Swizz has created a platform where one can actually buy a piece if they like. As an added bonus, help artists where such platform and sales would be unattainable or not profitable.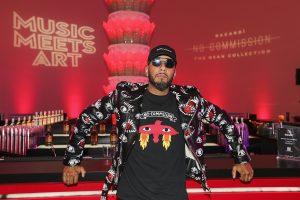 With this new concept, artists can focus solely on creating art while still profiting financially. This gives artist an opportunity to focus solely on creating art while making some cash to help artists continue pursuing their passion. For artists that are interested in joining the platform, Swizz offers one piece of advice " Stay real and true to yourself, do not care what other people think and say."  He says that if you have the passion for the art then the best will come. Using the example of how he first started with music, he says that he never even thought about making money with music, it was just a passion of his. I ask him if he ever gets nervous before these events as they take many months of planning and preparation. He said " I don't get nervous but I do get butterflies in my stomach." When you get butterflies in your stomach you know it's your passion. This piece of advice can be applied to any situation that one is passionate about, not only music or art.
When asked about his most memorable moment during the whole No Commission journey, he said it was his Berlin show in July this year. There was apocalyptic rain fall and flooding where the water reached his knees, the heaviest rainfall Berlin has seen in 100 years. At that point, Swizz believed no one would show up to his event, but he was wrong. Thousands of people showed up with an amazing energy making the show a huge success. At that point, Swizz realized he had a movement going with passionate followers.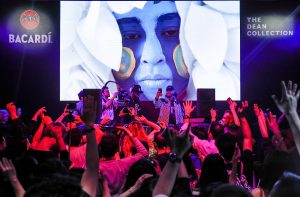 With such a strong presence in the music and art world, what does the future look like for the platform ?
Swizz responded by saying that he would like to expand the platform to other areas such as fashion and technology. For now, he is no rush in expanding to those areas as the platform is in a good place, growing and generating revenue for artists.  Eventually he would start focusing on the technology portion, combining his love for the arts with tech. As technology becomes more custom in everyday life, more people will be affected by the No Commission movement and be able to participate. The goal is to have as many people participating. Swizz should have no problem getting there as he's learned that  you don't become one of the best rap producers by following the rules.