Sustainability is making its steady way to establishing itself as a core pillar of business operations, and rightly so. One of the biggest, and most uncontrollable crises we face as a global community is climate change and the resulting impacts on our planet. Business success and sustainability are inherently linked – yes some businesses more than others, but absolutely all businesses face some related challenges. Whether this is food companies facing agricultural issues, insurance companies facing huge payouts for natural disasters or apparel companies seeing a drop in raw material supply. At present, typically, companies sit in two camps: those that integrate sustainability initiatives into business practice because regulation or reputation means they have to, and those that do it because they truly believe in sustainability.
This month, for our sustainability issue, we're taking a closer look at one of the most pioneering businesses, not just in the apparel industry, but worldwide: The Timberland Company.
Timberland's footwear began with a focus on a customer into the outdoors and active pursuits but their products have now transitioned into a trendy everyday shoe with the likes of Khloe Kardashian, Rihanna and Cara Delevigne bringing them into street style. To get a real inside view of Timberland's sustainability values, I set six questions to Colleen Vien, the Sustainability Director at Timberland:

 1. What drives Timberland to be a responsible brand?
Sustainability, responsibility, and transparency are in our DNA at Timberland. We strive to be Earthkeepers in everything we do – meaning we have an unwavering commitment to care for the environment and believe it is our duty to make responsible products, protect the outdoors and support the communities where we operate. For us, corporate social responsibility and sustainability are embedded into the company's business model. It's what drives us to seek new and innovative ways to amplify our social initiatives and identify new ways to reduce our environmental footprint throughout the supply chain.
 2. What has been the response of your customers to Timberland's sustainability activities?
Today's consumers, especially the younger generation, want to feel good about the companies and brands they do business with. It's not enough to simply put out a great product – consumers want to know more. They are increasingly demanding transparency, and expect brands to have a voice and a point of view on environmental and social issues. Fortunately for Timberland, we've operated under this model of transparency and accountability for many years now. Every time a consumer pulls on Timberland footwear or apparel, we want them to feel as good as they look and understand the impact of our products.
 3. You have some very impressive statistics (9.2 million trees planted since 2001) can you tell us about your different sustainability goals – how are they identified and how do you go about achieving them?
Here at Timberland, we have set robust goals against our three core pillars of sustainability: making responsible products, protect and restore the outdoors, and serve the communities around the globe where our employees and consumers live, work and explore.One of our priority areas of focus is steadily increasing our use of recycled, organic and renewable (ROR) materials across footwear, apparel, and accessories. By 2020, our goal is to have every TBL boot, shoe and sandal to include at least one material containing recycled, organic or renewable content. And that's the minimum – many will go beyond that. In apparel, we aim for 100% of our cotton to come from more responsible sources – defined as organic, U.S.-origin or Better Cotton Initiative-certified – by 2020. In order to meet our goals, we are constantly looking for innovative ways to source eco-conscious materials for our apparel and footwear. We strive to partner with like-minded organizations to develop new materials and technologies to help make our products in a more responsible manner, without sacrificing performance or style.
In terms of the outdoors, we have also announced a goal to plant ten million trees by 2020. We're currently at 9.2 million trees planted and are on track to reach our goal with annual tree planting efforts primarily in the Dominican Republic, China and Haiti. For example, in Haiti, we recently completed a Clinton Global Initiative commitment to plant five million trees in five years. We were determined to create lasting value beyond the trees themselves and worked with the local non-profit Smallholder Farmers Alliance (SFA) in pursuit of that vision.
To further enhance the outdoor communities where we live and explore, we announced an urban greening commitment in 2016. Each year for the next five years, we will choose a different city with a Timberland store, and match its retail floor space with the creation or restoration of an equivalent amount of green space in that city. You can see the first part of this commitment in the Mott Haven neighborhood of South Bronx, NYC and later this year the second part will be completed in Philadelphia.
To serve our communities, we set a goal of engaging 80% of our employees in volunteerism by 2020. Through our Path of ServiceTM program, celebrating its 25th anniversary this year, Timberland employees around the globe are provided up to 40 hours of paid time to volunteer, giving everyone the opportunity to make a difference in their communities.
 4. Why do you feel it is important for your customers to understand sustainability and corporate social responsibility?
It's been exciting to see consumers demanding more transparency and accountability. They are asking more questions because they want to be informed about the products they choose to buy. Where did the materials come from? How was it made? Were workers treated fairly? What kind of an impact does it have on the environment? We know our consumers want the answers to these questions, which is why we're committed to openly communicating our sustainability and corporate social responsibility initiatives and continuing to further our goals. We're showing consumers that style and sustainability can go hand-in-hand.
 5. Tell us about your most innovative product sustainability solutions.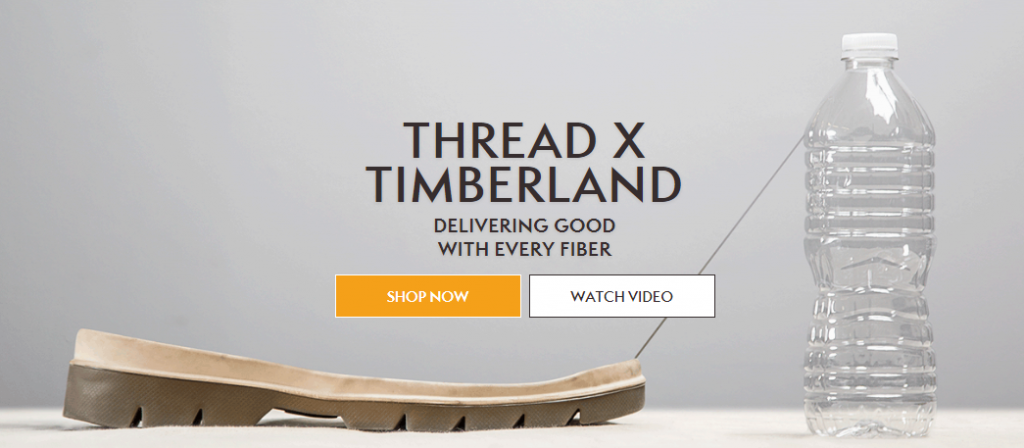 One of the most recent products we're particularly excited about is our Timberland X Thread collection of footwear, bag, and tees, launched in March of this year in partnership with Certified B-Corporation Thread. Thread transforms plastic bottles from the streets and canals of Haiti into what they call "the most responsible fabric on the planet." The partnership delivers impact beyond environmental value; it also creates social value in the form of much-needed jobs and cleaner neighborhoods in Haiti. Through Timberland's initial purchase of 76,528 yards of Thread™ fabric for the collection (rather than 100% conventional cotton), 765,280 plastic bottles were recycled, and 30,521,203 gallons of water and 15,305 pounds of pesticide were saved. The partnership with Thread builds upon the work we have already done to use recycled plastic bottles in our footwear and apparel.  Since 2009, we have given the equivalent of 270 million plastic water bottles new life in footwear. After seeing the success of the Timberland X Thread collection, we've been working to grow our partnership for upcoming seasons. And we're already looking at an expanded assortment in spring 2018.
 6. What would be your one top tip for other retail brands looking to improve their sustainability?
At Timberland, we believe business has the power – and responsibility – to create long-lasting positive impact in the world. Instead of thinking of sustainability as an "add-on," I would urge retail brands to embed corporate social responsibility and sustainability into every element of their business model. When every department and employee is aligned with the company's sustainability goals, meaningful change can be accomplished.
Feeling inspired? You can shop the Timberland X Thread collection now!