Summer is upon us and we know our readers are soaking up rays and frolicking in waves.  That's all good and restores the soul. However don't let your hair suffer the consequences of over-exposure to the sun, salt, and chlorine as you take temporary residence at beaches and pools.  So, go show-off, those on-trend bathing suits and glowing tans BUT also protect your crowning glory.
According to Ebony Clark-Bomani, Master Cosmetologist & Product Educator for The Mane Choice,  here are five easy ways to do so:
1.      Before heading to the water, be sure to saturate your hair with leave-in conditioner to mitigate the damage that could be caused by chlorine, salt, and UV rays.
2.      Try to cleanse your hair immediately after chlorine and salt exposure. Allowing the sun to bake your hair with the chlorine and salt in it will cause your locks to suffer.
3.      If you're not able to cleanse your hair immediately, rinse thoroughly, add more leave-in conditioner, and tuck your hair away in a sleek bun. If you can throw on a hat for even further protection.
4.       After cleansing your hair, apply a mask to help bring your hair back to life.
5.       Be proactive.  Take extra special care of your hair prior to being exposed to any environmental stressors.  Your hair will be more prepared to handle it.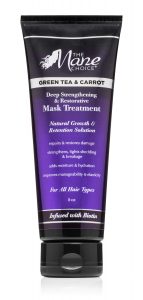 My daughter and I have been testing one specific product from the Mane Choice, the Green Tea & Carrot Mask Treatment for deep strengthening and restoration of our frying tresses.  At $17.99 for a large 8oz. tube and available locally, this product is most effective for our summer hair needs — her locks are taking a beating as she's spending hours daily at the pool since she's on competitive swim and dive teams.  Shampoo plus conditioner are just not enough but add the Mane Choice hair mask once a week, and her hair is saved.  The product is also easy to use:  Slather the cream from root to tip onto clean hair, put on a plastic cap, and either apply a hair dryer for 15 minutes or leave on the plastic cap for one hour without heat.  The result is super soft and smooth hair, manageable, with a high gloss that lasts.
The Mane Choice is a premium multi-cultural healthy hair growth and retention company created by a physician and registered nurse duo.  The company is founded on research coupled with a "beauty, health, and science" approach.  Products boast high-end yet affordable results and are available at retailers including Sally Beauty and Walmart, and online at TheManeChoice.com.