Images by: Frank Rocco

When it comes to holiday gifts, there is nothing better than to give the gift of massage, and Soothing Zen Day Spa has you covered! Located in Milburn, New Jersey Soothing Zen Day Spa it's owned by Ying Li, who in spite of her young age, has managed to move her business to the next level. Li was inspired to open her spa in April 2016 by Grace Macnow of Graceful Services.
Soothing Zen counts with certified aestheticians and an impressive client list that just keeps growing with the passing of time. Li offers cutting-edge services and a brand new massage mapping technique, derived and based on Qi, the energy that flows over the body. Through the Qi, they are able to detect where the Qi flows so they can release those muscles "traffic jams."
Our style editor visited Soothing Zen and got a chance to pick Li's brain.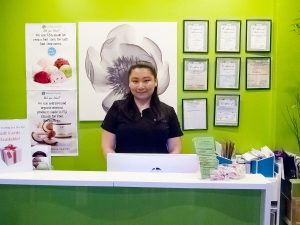 Why did you decide to open a spa?
The idea first came out back in the summer of 2015. I wanted to create a unique spa of my own.
What services do you offer?
We offer massage, facial, reflexology, waxing, and body treatments, along with other signature services. For details, please find attached my signature services.
What are your price ranges?
Massages range from $60 to $79 per hour. Facials are about $69-$150, and our reflexology is $55-$65 per hour.
What do you like the most about owning a spa?
I love being creative and independent. I love the fact I am able to create my own "recipe" for clients' wellness. Improving their health and wellbeing makes me happy. There is nothing better than hearing from the clients that they felt much better after a massage or their skin was much softer after a facial. Being able to bring balance to my client's body and mind and seeing their smile is the happiest thing ever.
Which of your services are your favorite and why?
My favorite service is anti-aging facial and hot stone massage. Both are very soothing and relaxing, and very effective too. I can't say enough about how good a person will feel after trying these.
What can people expect when coming to your spa?
People can expect a cozy and comfortable environment, a zen state of mind and body, supreme customer service, excellent spa services, and a new self.
Make sure to include Soothing Zen as part of your holidays!