Perhaps it's already obvious. Regardless of arguments on sexual objectification of the human body and debates on nudity concerning the fashion industry, New York Fashion Week in September this year was SEXED up. And, the following houses took sex matters into their own designs – exploring from thin translucent fabrications to boxes and leather, from popping vulva-shapes and pearls on petal nipple pasties to fetishes, lace-ups and bra purses.
Helmut Lang Seen by Shayne Oliver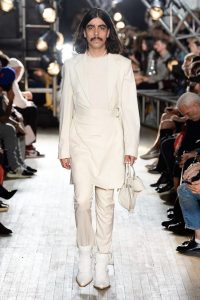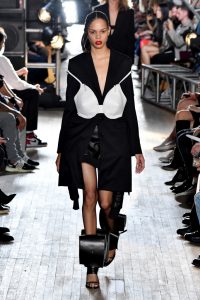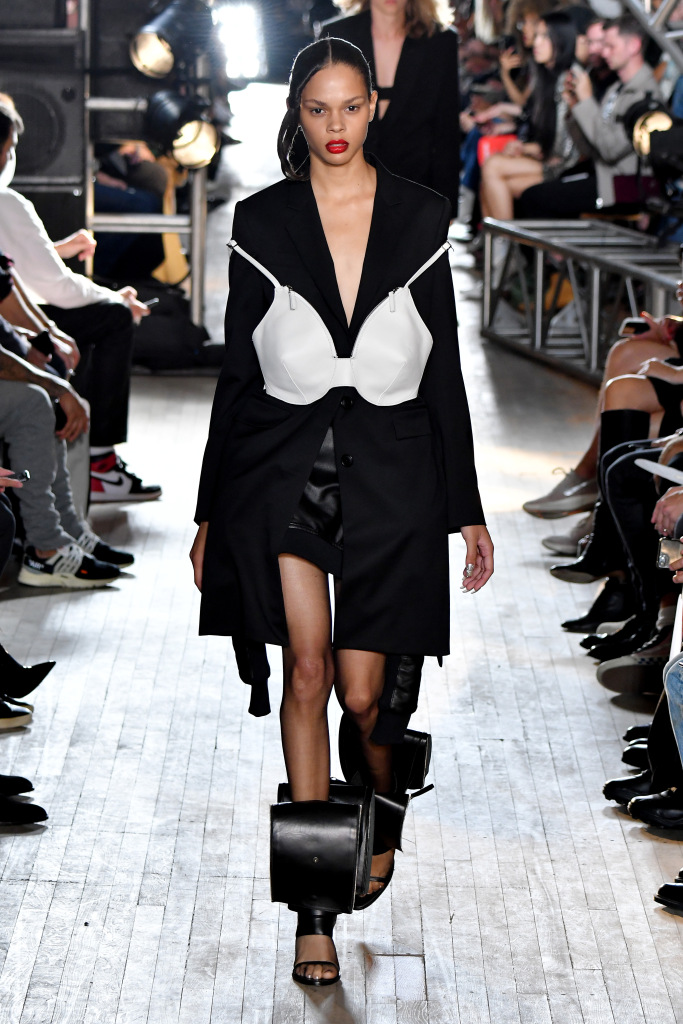 The Helmut Lang SS18 show was the brand's official relaunch twelve years after Lang, its founder, retired in 2005. A collaboration with Hood by Air's Shayne Oliver, Helmut Lang spring collection is innovative and delivers exactly what the Hood by Air's designer is known for – his fetishistic aesthetics. If the most anticipation is on Oliver's own striking take on the respected 90s fashion label, perhaps the most discussed item from the show is the off-white purse that's wearable as a bra. And of course, it's made of leather. Straps, locks and attached hoops (even better, hoop hooked to the front of a red leather brief) are highlights from the show. Oliver shared opinions on Lang's fashion, "it's horny, which for me [him] is very important." Helmut Lang Seen by Shayne Oliver depicts Lang's own suggestions of "fetish and pornography – clothes dangled straps that implied bondage, a famous top bared its wearer's nipple" [said The New York Times].
Philipp Plein, "Good Gone Bad"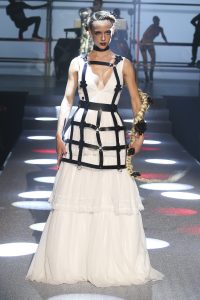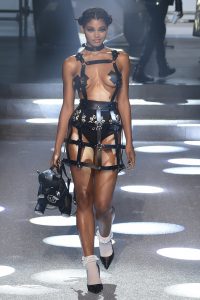 How else could one spice up a show better than getting Dita Von Reese to wet herself in a giant martini glass? Yep, Plein did just that. In the historic Hammerstein Ballroom theatre, the designer's "fairytale and fetishes collide". In contrast to the properness of an old opera house, the show began with one distinguished pole dancer performing her martini glass act. Dita Von Reese brought sex to the show. In fact, she was its sex symbol. Plein noted that the collection is "under the theme Good Gone Bad" – depicting the juxtaposition between innocence and fetishes. Frilly white socks and teddy-bear backpack are paired with black leather x-shaped pasties and bondage. Rapunzel's hair, Bambi, and Disney princesses are all under bondage corsets – kinky, yeah? Plein made a remark on his collection, claiming that it "is a celebration of our desires. It's the opposite of suppression. And the right amount of wrong".
Eckhaus Latta, 'free the nipple'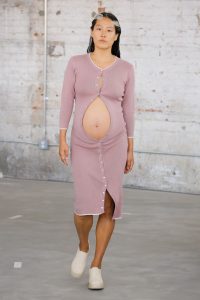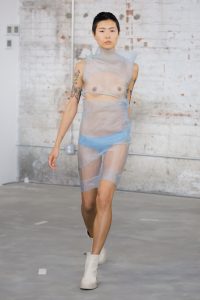 It doesn't matter if the sight of nipples turns anyone on or not, during the German designer duo's spring show, they're definitely a female power symbol. In Marc Jacobs SS18, model Kendall Jenner had a few minutes of bare exposure in a yellow striped sheer top and the internet went wild. Mike Eckhaus and Zoe Latta stepped up the transparency game, putting their models in looks that gear towards exposing nipples under sheer blouses.
If that's not (already) empowering, models of all ages, sizes and genders were championed on the runway – in which, features one look with a model's pregnant belly exposed out of an unbuttoned slit on a cardigan dress. Took inspiration from a Korean photographer, Heji Shin, in the brand's new ad campaign the designers wanted to look for models that would actually have sex on camera. "We were thinking of how we were using sexuality, the relationship between fashion advertising and sexuality—and in very direct terms saying sex sells," Shin said to W magazine. And Eckhaus also explained that "For us, it was really important to think of sex as something really natural and not something fabricated, hyper-sexualized, or taboo."
Namilia, the vagina fashion show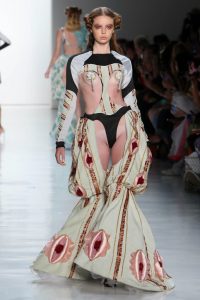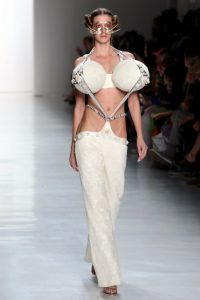 Unquestionably the most memorable show during NYFW! How often do you get to see genitals being depicted as art on a high fashion runway? Never, is in my case. As another German designer making sex work on the runway, the New York Post declares that the show was "an ode to lady bits". The shape and colors of clitoris were used as patterns on Victorian inspired gowns, featuring large odd cut-outs and puff sleeves. The designer explained to OUT magazine about the inspiration behind the collection and her social activism: "This season all started with research on female stereotypes in media and pop culture. It basically boils down to the holy virgin/whore dichotomy."
Depictions of eccentric big breasts and overexposure of flesh due to cut-outs explore society's weird obsession with body parts. Additionally, the three-dimensional vivid-colored vulvas call for the glamorization of a blossoming and youthful sex drive, suggesting toxic social expectations on sex. Namilia noted in her interview with OUT, "the objectification of women in the porn industry, which, in our opinion, has become the new sex education since sex, is still such a taboo topic." Though the show is excruciatingly bizarre, sex was clearly not a taboo subject on the runway.
From Eckhaus Latta's progressive transparency and nudity in the house's spring collection, to Namilia's vagina show that establishes the designer's tough stance on society's demonization of sexuality. We've been seeing flesh and tabooed body parts on the runway fairly often. Whether aspects of sex have been constant inspiration or designers are just making attempts to catch up to the proceeding movements of body positivity and 'free the nipple', the fashion runway has been sexed up – regardless of sex sells or not.