What sells more than sex? Vogue. Well, it used to.
I'm currently reading The Vogue Factor by Kirstie Clements. Kirstie began working at Australian Vogue in 1985 and worked her way up to editor-in-chief by 1999. She also co-authored In Vogue: 50 Years of Australian Style. The Vogue Factor is her "inside story of fashion's most illustrious magazine." Something that I found interesting was her accounts of the models and the impact of designers' preferred sizes on the rest of the population.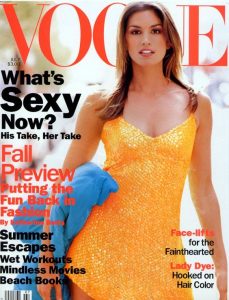 When we think of models  "skin and bones" come to mind. There have often been accounts of malnutrition and the health hazards that come along with this standard. However, Kirstie recalls that in the late eighties the models that were most sought after did not fit that mold. She references some of the biggest names in model history such as Cindy Crawford, Claudia Schiffer, and Eva Herzigova, saying that compared to the stereotypical models they saw back then (and now), these women looked "curvaceous."
This can be true for some women today, such as Teyana Taylor who recently walked in New York Fashion Week for Philipp Plein. It seems that some designers are gravitating toward women like Teyana to be their big "showstopper." This is where sex appeal comes along. These women are more closely related to pop culture which the fashion industry has been relying on heavily lately. Designers are making things specifically for figures like Nicki Minaj, Beyoncé, Cardi B, etc.
While fitting celebrities has always been a thing, in earlier years it was not used for sales like it is today, showing a bit of evolution in how designers create sex appeal. Kirstie addresses the issue of model sizes directly and assures us that the problems we think we see amongst models are real problems. She gave multiple stories of how models made themselves sick and put themselves in the hospital trying to stay in "model shape." Her forward statement that "It cannot be denied that visually, clothes fall better on a slimmer frame, but there is slim, and then there is scary skinny."  The "sample size" created an unrealistic standard that has haunted women for years while creating a sense of exclusivity in the fashion industry. Forced to find women who could fit this ridiculously small sample size, magazines were the perfect delivery system for this message of small is better. As you can see, the portrayal of body image is affected by many different variables and they are constantly changing. Curvy, Kardashian, and Cardi are sexy now but will sample sizes and sex appeal shrink again?
To be continued…