Confusing but Alluring
When I walked into the Samsung PH5 event, the first thing I did was look around. The event space was littered with cool-looking tech gadgets, and the attendees were decked in colorful fashion, so I was certainly at the right place, but I did not see a fashion show going on. I then followed the crowd down a flight of steps, and there I saw stacked rows in which models were strategically placed and still, as though they were posing for a magazine cover. Although their clothes were certainly unique, they were not particularly memorable, though their knee socks, pulled over heels, were certainly interesting – but the very most interesting aspect of the show was not the models or the clothes, but rather the hologram in front of them, which featured two hands changing colors and patterns as it weaved itself together with dancing fingers, as if to suggest the tango that is the ever-changing landscape of fashion.
This flowed, if not neatly, then at least naturally, into the rest of the showcase, in which Samsung displayed all of its new products, as well as some which had been around for years. Although the beauty products, including an upgraded Clarisonic-type cleanser that Samsung was selling for half the price of a Clarisonic, were certainly intriguing, the entire event felt discordant, as though the organizer had tried too hard to associate fashion with tech. The models never moved, and at one point were so bored they began chatting with each other, and the viewers appeared to not understand what to do next. One pair of girls in line for the cafe commented that they worked close by and were just looking for somewhere close to get coffee – they, too, confessed to finding the event to be confusing. Billed as a fashion event, it was more an attempt to showcase their electronics,  with an eclectically pointless fashion show tacked on for good measure.
The staff at the event, to be fair, were incredibly friendly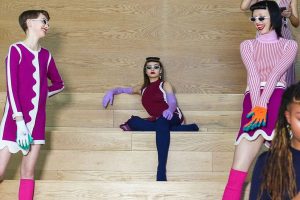 and social, and it gave a laid-back feel to the scene which was fitting, given that the true nature of the event was an electronics showcase. It would, perhaps, have been better billed as such, for while the fashion was not there, the electronics were, and I would certainly love to learn more about the beauty products Samsung has to offer. A Clarisonic-style cleanser for $89 is alluring to me – stationary models with knee socks pulled over their heels is not.