…and Slam This Swimsuit Season
Summer is here, and it's that time of year where we usually sit on two sides of the fence: the "damn I'm so glad I took those extra 6 am spinning classes" side or "damn I wish I had taken those extra 6 am spinning classes" side. Whatever the case, we're here to help you choose which styles are gonna rock your body this holiday season. Simply choose your fit and find your style!
Hourglass
Pear
Larger Bust
Smaller Bust
Curvy
Athletic
Hourglass: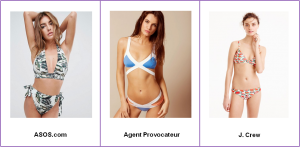 The classic shape for an hourglass figure is a triangle bikini coupled with tie side or high waisted bottoms. ASOS have some really summery prints that will flatter both your shape and your tan like the Palm Print Bikini or if you fancy yourself some complimentary cut-outs Agent Provocateur's Mazzy Bikini will enhance your body shape in all the right places. For a classic triangle style, keep it skimpy with J. Crew's dreamy Watermelon bikini.
Pear: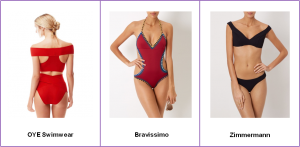 Getting in a bikini is a great opportunity for you to show off your great bum so you should totally embrace it! However, depending on whether you want to flaunt it or disguise it, your best fits are either a tie-side bikini bottom with balcony bra top or a cutout swimsuit (like this Kiini Crochet swimsuit). Bikinis with a high waist paired with a top with a little more coverage could also work for you. So, for those of you not sure about having too much on show, OYE Swimwear's Lucette bikini is a great fit with a little more material around the bottom and a wider coverage on top to give balance your proportions.  If you're more into monochrome then try something like Zimmermann's Black Cold Shoulder bikini.
Larger Bust: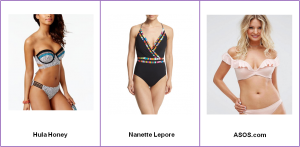 Making sure you've got everything covered and supported is key for confidence; if you're going for a bikini, choose something with a wider band under the bust or thicker straps. If you're comfortable to go strapless, you can go for something under-wired to maintain the support like the Hula Honey Wild Ways bandeau (available from Macy's online). Alternatively, a one-piece swimsuit can give you a bit more support all round whilst still be flattering to your figure – like this Nanette Lepore one from Bergdorf's which also has a gorgeous back. If you need something with a slightly lower budget, ASOS has a great "Fuller Bust" collection, especially for bigger busted women like you! Their baby pink Frill Bikini is under-wired with thicker straps for support but has a really feminine feel with the frilly details.
Smaller Bust: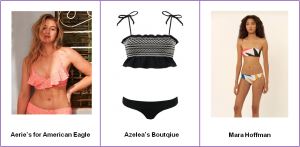 Women's swimwear retailers generally have your back here as many garments come with a little extra padding if you want that lift. If you're super confident with your smaller bust you can rock a bandeau bikini top which = no dodgy strap tan lines and no fear of inappropriately popping out! Another great shape for a smaller bust is something with a little fuss around the top, like Aerie's Scoop Ruffle Bikini or the Selena Smocked Bikini from Azalea's Boutique. If you're a little conscious of your smaller bust but still want to avoid the tan lines then something like Mara Hoffman's Superstar Bikini is for you – the patterned material will distract away from the shape definition a block colour gives around the bust and bottom.
Curvy: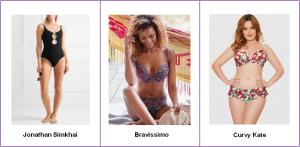 The key for curvy is to highlight your curves with comfortable coverage. A higher leg-line can help accentuate the length of your legs whilst still nipping in the waist. Generally steering clear of monokinis is probably wise, but if the cut-outs are in the right place (i.e. a teardrop shape below the bust like the Jonathan Simkhai one below, or at the back) then this can show off your shape without any risk of awkward fashion fails! If you're comfortable with going for a two-piece Bravissimo's Moroccan Bikini or Curvy Kate's Aloha Seafoam bikini are just the thing for you – the complimentary shape and striking pattern are sure to make you feel body positive on the beach!
Athletic: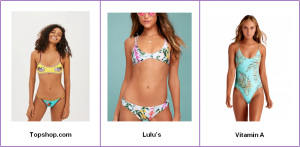 You're the perfect model for the string bikini. A smaller, triangle-shaped set of bottoms helps accentuate your bottom whilst the tie sides elongate your stomach. Paired with a string bikini top or bandeau you're able to emphasize your waist and thighs. Topshop currently have a great selection of string and crochet bikini's in – a favorite of mine is the Embroidered Crochet Set. The Stone Fox Cai set from Lulu's is also really pretty with a tropical floral pattern. If you're more of a swimsuit kinda girl then Vitamin A has got you covered here with their Teeny Cut one-pieces.
And lastly, just a few dos and don'ts for choosing swimwear:
DO: Go for colours that you feel comfortable in, whatever the latest trends are. Aside from the usual rules that white can go see-through and neon makes you look more tan, go for something that compliments your skin tone as you'll feel less like a sore-thumb poolside.
DO: Try on lots of different things, trends change really quickly and you'll never know if there's something out there that'll suit you better unless you try something new.
DO: Mix and match tops and bottoms to get what works for you!
DON'T: Forget that swimwear material (typically Lycra or Spandex) will expand when wet, so if you've got a little room when trying it on dry, go for a smaller size.
DON'T: Choose a bigger size to cover more skin as you can end up with loose arms and leg holes, choose a different shape or style instead.
DON'T: Be afraid to invest in a matching cover-up or beach dress to make you feel more comfortable.