Bringing Organic Clothing From Farm to Fashion
Designed and manufactured in the US, Ramblers Way has been creating beautiful clothes since 2009. The company founded by Tom Chappell has made a name for itself as a sustainable clothing company, dedicated to responsible sourcing. Their next-to-skin clothing can be worn both in the office and outdoors since all of their garments are made from premium, natural fabrics.
They recently introduced its first Global Organic Textile Standard (GOTS) certified 100% organic wool items at the Organic Trade Association's (OTA) in NYC. With their newest collection, Ramblers Way demonstrates that it's possible to meet the demands of the fashion market, without compromising values.
Fashion 360 Mag got the opportunity to interview Ramblers Way supply chain leader, Nick Armentrout, where he told us everything about the company.
What made you get into the fashion industry?
The Chappell family has a deep and rich history in textiles. The idea to create clothing came to Tom in May of 2006. Tom and his son, Matt, left for a 2-week trek across the pastures and steep hills of Wales.
It was on this backpacking trip that Tom struggled to find a warm, dry and soft shirt that could sustain a day long hike through the pastures in Wales. When Tom got back to Maine, he set off to create the perfect next-to-skin performance shirt. It needed to come from a cloth that soaked up the sweat, didn't rub uncomfortably against the skin, kept warm even when wet, and allowed body odor to escape.
How easy or difficult is it to create timeless garments while keeping your production ethical?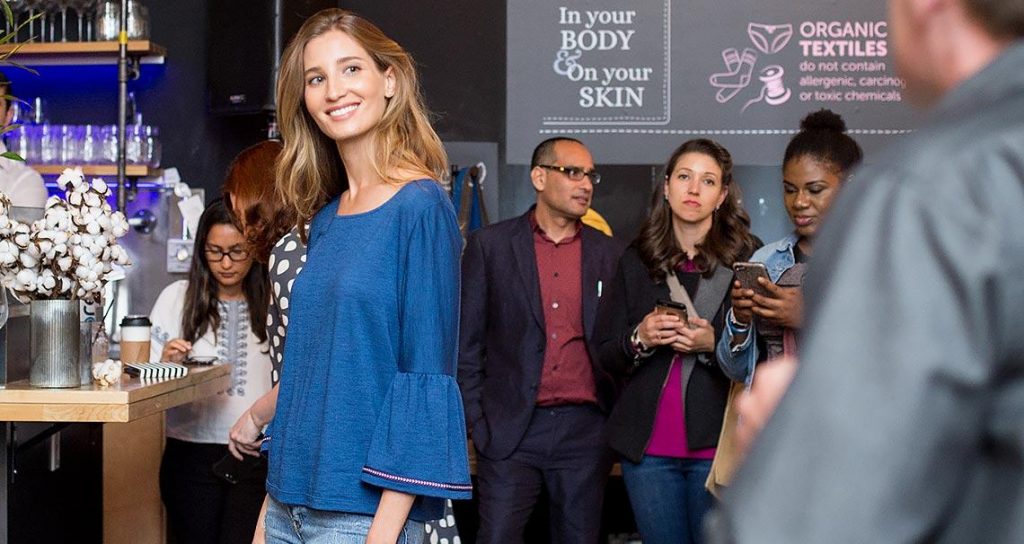 Sustainable clothing is all about changing nearly everything the industry does. Ramblers Way clothing is a new way to think about fashion. It's clothing that is about consuming less and stewarding more. We pride ourselves on face-to-face relationships, not only with everyone in our small company but with the folks throughout our supply chain, from ranchers to factory owners.
From farm to fabric to fashion, each component and each step of the process meets environmental, social and animal welfare standards. We also find that relying on third party certifications, such as the Global Organic Textile Standard (GOTS), is an excellent approach to ensure the production is ethical in places we're not able to visit as frequently.
How important is it for your company to keep the production in America?
Our goal is to make clothing grown and sewn in America, with American hands and American know-how, in American factories. American-made clothing supports local economies, reduces our clothing's environmental footprint, and assures appropriate working conditions for the people who skillfully craft our clothing.
We began with an all-American supply chain: ethical ranchers in Montana, Wyoming, Colorado and Nevada; spinning and dyeing in the Carolinas; and small factories close to our home in New England. Our partners in the Carolinas and New England have long histories in the textile business.
Who do you have in mind when designing your collections?
Ramblers Way clothing is designed for the conscious consumer, who cares about the natural world and is seeking beautiful, long-lasting and versatile clothing.
We emphasize multi purpose clothing because being conscious is also about consuming less and stewarding more. We live these values in the timeless design of our clothing that we intentionally designed with purposefulness. It's very exciting to develop clothing that our customer, who is highly conscious of the same issues we care about, will love.
What are your best sellers?
We have a few best sellers that are ideal for the conscious consumer. Available to men and women, our Henleys are a great versatile piece of clothing well-known for their classic style. The Jewel Neck and Camisole tops are also best sellers among women. In our Portsmouth store location, the Bella blouse, from our latest collection, is predicted to be a bestseller for the summer.
Do you plan to expand your brick-and-mortar stores to other parts of the country?
Our goal is for Ramblers Way to be recognized as a robust sustainable brand. We have found that the best approach for us is through educating consumers at our brick-and-mortar locations. With deep ties to the Maine community, we've chosen to launch and expand our stores in the greater New England region. Our three existing stores in Maine and New Hampshire will soon be joined by three more stores located in Portland, ME, Cambridge, MA, and Connecticut. Eventually, we will also be on the west coast.
Ramblers Way stores are located in Portsmouth, Maine, Hanover, New Hampshire and online at www.ramblersway.com.