It's finally June–the beloved LGBTQ Pride month. The month  people across the nation and around the world experiment with wild colors by fully embracing the extents of the word "rainbow." Whether it's through color-exploding outfits, participation in pride parades, or a refreshing rainbow hair transformation, there are tons of ways to represent your support for the strong LGBTQ community.   In fact, there are even subtle ways to manipulate and showcase the rainbow palette.
The trending simple pride representation today is nail art. Any day of the year, you may have seen nails covered in glittery sparkles and charms or the simple one color palette across the fingers in a single outing; we often chalk up that artistic difference to the particular person's personality. Contrary to popular belief, this range of artistic choices also applies to pride inspired nails– it doesn't always have to be about flamboyant color explosions. Therefore, I would like to introduce you to five nail looks from well-known Instagram accounts and blogs that anyone can rock.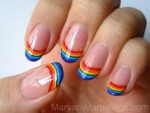 Let's start with the most subtle design: a French manicure with an LGBTQ inspire twist. Classy, playful, elegant, visually fun, and sophisticated. Quite honestly, one could flaunt this look without the encouragement of pride month. Even if you're the type of person who tends to shy away from a lot of colors and doesn't particularly like to draw attention to her or himself, you'll be able to wear these works of art confidently. Going to a professional nail salon is probably your best bet for this one though.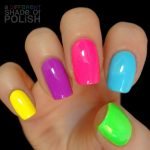 Next, building off that simplicity from the previous picture, here is a version with a bigger pop of color–the classic one color per nail style. While this design could remind people of their elementary school days of messy nails with clashing colors, it is making a comeback in the fashion world. Remember that people have spun this look by alternating solid colors between nails or going for the party nail with just the fourth finger painted another color. Find a friend with a steady hand or make a personal attempt. As long as you paint within the nail, there's no going wrong with these rainbow fingers.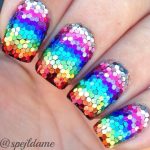 What if you want more of an attention grabber? Try these magical, glittery layers. A gradient rainbow pattern on each nail, each glitter speck is perfectly placed to create the disco ball effect. Maybe this is amateur talk, but I hope this design comes on a glue-on nail because it seems like a time intensive option. But besides that hurdle, your nails will reflect any light; it's truly perfect for the summer party season.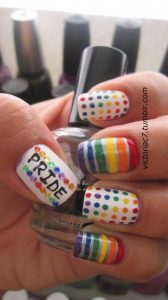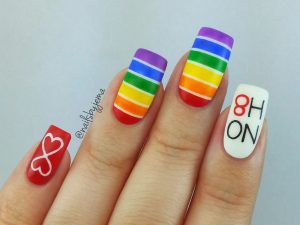 The next two looks are pretty similar to each other, and there's no question if they are inspired by LGBTQ pride. The artists take classic patterns like stripes, polka dots, shapes, and simple text to create a visual pride flag. On an average day of an average month, the nail patterns themselves could seem a bit kitschy, but anything goes when showing LGBTQ pride (Also, kitschy is in this season for the record). I appreciate this sort of design because it is easy to put your own personal stamp on it, whether it be with color or pattern choices.
The common misconception about pride month is that those who are true supporters must be over the top colorful and pull off complicated concepts like it was effortless. But, using the versatility of nail art to voice your support is a great way to either tone the look down to a comfortable level for yourself or a very easy way to elevate your style without putting in too much effort. Whether you do it yourself or seek out a professional, don't lose touch with what pride month means to you!