I had the opportunity to learn first-hand from successful Hollywood makeup artist, Vera Steimberg Moder, about her all-natural advice and methods to keep our skin truly beautiful at all ages. She is a gifted organic glam wizard and rightly trusted by many gorgeous A-Listers to help them look their best — for photo shoots, on sets, stages, runways, and more — her clients have included Madonna, Eddie Murphy, Zoe Saldana, and more. Besides assisting personally to various celebrities, she has had a prolific career on movies, counting almost 30 credits between 1999 and 2016, as part of the Makeup Department (which also includes hair and special makeup effects artistry!) To name just a few of her movie/TV make up castings: Planet of the Apes (2011), Star Trek Into Darkness (2013), The Haunted Mansion, Daddy Day Care, Dr. Doolittle 2, Curb Your Enthusiasm, and much more. Steimberg Moder is one hard working beauty professional, but she was able to find time to share some skin care thoughts and tips with our readers, beauty lifestyle routines and simple changes we can start doing now: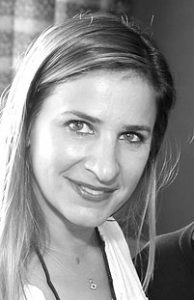 What are natural and organic ways to keep skin at all ages looking fab, healthy and clean?
~~Did you know that you can use honey to hold eyelashes in place instead of eyelash glue? I have done this for many clients that are highly sensitive to adhesive.
~~Never go to bed with your make up on. Always clean your face.
~~Drinking plenty of water is essential!
~~As a makeup artist people ask me all the time, what is good for me, what is bad for me, what can I use? As far as makeup goes, I always tell them "you have to take care of your skin first." The epidermis is the bigger organ of our bodies. There is only so much you can cover with makeup. How you take care of it is by using natural products. NO CHEMICALS on your skin. Chemicals will affect your skin eventually, even if you think you are doing good for a minute by using it regularly, it will get inside your pores and will negatively affect your body. It gets into your bloodstream and your system. What we eat and what we put on our skin and nails and face is so important.
~~Your routine is most important! You clean your skin at night. Scrub, rinse and clean your face. Add moisture to your skin so it's fresher, especially with the harsh environment that we live in. Take care of your skin when you get up in the morning and you also should prep your skin before you apply any makeup.
This is why there are so many different moisturizers and lotions and cleansers. The products have different effects. They all have different extracts, vitamins, and minerals all designed to help you with aging, with wrinkles. It helps you look fresher in the morning. It's great to find products that are organic and natural with vitamin C, it is important because you can get effects naturally, you don't have to go with chemicals. Coconut, avocado… you can get all these benefits from natural products. That is why I recommend Jovovo Naturals.
~~Some products can cause flakes or dries the skin and it makes it difficult when I apply the makeup. It's important to see smooth, glowing radiance on the skin. I love when there are no hidden ingredients, and products are dermatologist tested. It helps me when I'm using these products on the skin. Vitamin C tightens your skin. Serums have a big effect on the skin. The eye cream really helps brighten and tighten the skin.
How should women care for their skin as they age?
I work with clients of all ages. It's important to protect your skin and hydrate your body. As we age our skin matures. I am not heavy handed with makeup. I love to enhance the natural beauty of my clients. I look at the face and treat it like my canvas. I am light handed, putting layers and adding and enhancing as I go. The same routine goes for all ages: Drink plenty of water, cleanse your skin every night, protect your skin with coverage and sunscreen.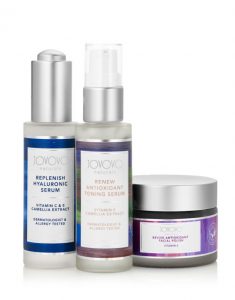 What organic/sustainable skin care brands do you recommend? And why?
I recommend and use Jovovo Naturals, Jovovo Naturals Toning Serum and Hyaluronic serum go on smooth. I like the way the products make the skin feel.
Can you tell us your celeb beauty clients who only use organic beauty brands and/or natural methods for skin care?
Most of my clients want to use natural products.
Can you tell us the latest Hollywood projects you are currently working on, for makeup?
My latest projects were the press tour for Guardians of the Galaxy, and I am currently working on Avengers and various TV commercials. Conscious creators and founders of Jovovo Naturals, Randy, and Charisse Webster aim to take natural skin care to a deeper level. Inspired by the changes they had made in their lives after graduating from the University of Santa Monica's Master's degree program in Spiritual Psychology, the husband and wife team of nearly 20 years became motivated to develop an original organic and natural skin care product line where the goal line and soul line aligned: Jovovo Naturals was born after several years of collaborating with a highly-regarded team of leading chemists, aestheticians, and skin care experts, the company launched in 2016 with its premier luxurious line of all natural, organic and predominantly vegan skin care products.
Made from high-quality organic and natural ingredients, Jovovo Naturals products are void of harsh chemicals, fillers, and preservatives, and all are dermatologist and allergy tested for every kind of skin type. The company even produces its products in small batches to further ensure they are made of the freshest and highest quality of natural ingredients possible. Among its many distinctions, Jovovo Naturals ingredients are also cruelty-free and never tested on animals at any time throughout the entire creation process.
Visit Jovovo Naturals at http://www.jovovonaturals.com/ to learn more and buy. It's an innovative and exciting new brand, no wonder Steimberg Moder supports it as do her clients.