If you by any occasion come from a very distant place not related in any ways to the makeup world here's a short run through Obsessive Compulsive Cosmetic (OCC) history and policies. Professional makeup artist David Klasfeld founded the brand in New York City in 2004 wanting to develop products that met the needs of artists who weren't satisfied with the ranges of products found on the market and he devoted himself to committing to innovation in color, texture, and selection. OCC strives to be at the forefront of colour cosmetics while honoring both professional makeup artistry and cruelty-free heritage. OCC is proud to be 100% Vegan & Cruelty-Free, as internationally certified by PETA.
The most popular product they have is no doubt lip tars which are offered in multiple shades and finishes and loved by everybody but are not the only product the brand is famous for. They also have OCC Skin line of OCC Tint (tinted moisturizers) and Concealers, quite a wide color range of Nail Lacquers, Loose Colour Concentrates which are simply to say pure pigment without any fillers, extenders or translucent mica and of course, glitters because this season is all about the glitter.
OCC is also very famous for their all-inclusive approach when coming not only to makeup color range but also to choosing their models for campaigns. Among their main faces were such models as Jamie Clayton, January Hunt, Calpernia Addams, Willam, Detox, (both of whom have been on RuPaul's Drag Race), Vicky Vox and many others. Of course, it steers up the people's attention and it's just great to realize that even despite the seemingly inevitable negative reactions, OCC has actually had a long history of being gender-inclusive.
"Men are increasingly wearing more and more makeup as can be seen on MTV, Instagram certainly, and in the streets. We're happy to not only to address this growing demographic but to embrace them. And we've really been trying to speak to people especially who now feel a bit marginalized. We've always been all inclusive." It's incredibly useful for popular brands like OCC to embrace gender fluidity and not only for the sole purpose of being considerate to their entire customer base, but also to help de-stigmatize masculine people wearing makeup.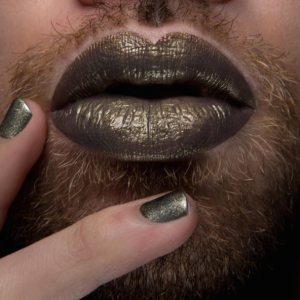 What I also like about the brand as a makeup artist is that as they're really true to their diversity and high-quality principles: "We're all about everyone and I love that our foundations are so diverse because when we developed the colors for the range they had to be all inclusive because you can make the most beautiful lip or eye on your client but if the foundation doesn't match not only are they unhappy but you also lost their trust completely. We also realize that pigment is the most important part of makeup and if you're looking to cut that back you're really short changing the consumer. What's really been the definition of professional makeup is the higher quality and we just don't believe in that, we think any consumer is equally entitled to the best quality of makeup in the world and you don't have to worry because the color you see in the tube is exactly how it will be on the lips. And it looks this way on everybody and especially women of color because what happens sometimes is you see a beautiful color in the tube, you apply it and it looks like nothing. The color should go on you as it looks." David Klasfeld said.
We also discussed their 100% vegan and cruelty free heritage and the got really interested in why the brand with such a great formula doesn't promote themselves as being organic to which David gave us an interesting explanation: "We are almost organic, but what stops us from promoting it is at the end of the day the color pigments aren't all organic so whereas a lot of lines will go ahead and say that they're organic and sort of forget to mention that the pigments are inorganic we've always been about the truth in advertising since day one so the base of lip tar is all organic but pigment is what makes it inorganic so we're about as organic as everybody else but we like to go an extra mile."

This season brings us something new from OCC as well: "It's called Nothing shocking and is a real neutral lip color range that looks great on a variety of skin tones. That's redefined neutrals because what most companies call neutral isn't neutral for everybody. And then lip tar has always been the star of the show but I think our glitters have gained an insane popularity. We came out with duo-chromatic or holographic glitters that just caught fire that reflect a million colors and that in general is just on trend and reflects what's happening right now in 2017" said David.
At the end of the day it's just great to realize that there are such brands as OCC n the market nowadays who are not only versatile on the range of their high-quality products, 100% vegan and cruelty-free but also they support and speak for individuals on every part of the gender spectrum.