Today I went to the Novex Hair Care event. We at Fashion360 have reviewed this brand in the past. I myself use the Bamboo collection to help strengthen my hair. So needless to say, I was looking forward to what was in store. The event was aptly held at the Brazil Brazil Restaurant, which is perfect for a Brazilian brand. I was escorted to a private room in the back by the hostess. It was like entering the tropics. The room was decorated with plastic coconuts, tables had floral arrangements, Brazilian chocolate, and mini Novex products. I was seated and quickly served Caipirinha and some lite bites. If you're like me and have never had Caipirnha, it's a must. Caipirinha is Brazil's national cocktail and it's delicious. I sat at my table enjoying some yucca and sausage while sipping on my drink. I also made sure to post some images on instagram. The event organizers had managed to make me believe I was somewhere much warmer than NYC.
An executive from Novex addressed the crowd and discussed the introduction of their Coconut Oil products to the US market and the new Keratin thermal protector styling spray. A statement that he made that caught my attention about brands claiming to be Brazilian Keratin, but are made in China. This brand is Brazilian that has factories in Brazil.  After his speech, I was able to grab him for a quick interview.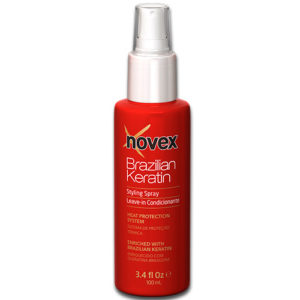 Today's event is to launch two new products. Can you tell us more about that?
We wanted to take this opportunity to launch the Brazilian keratin spray 2-in-1, which is a particular product that will strengthen and reconstruct your hair. Keratin is a perfect tool to reconstruct damaged hair, not just from straightening but also damage from pollution.
What I really liked that you said is it's actually made in Brazil. From your last launch, I remember the sales manager mentioned having various types of hair available in Brazil made it easy for the company to test the product on all hair types. This is great.
It can be made in China. We are trying to enter the Chinese market. We are proud of having some kind of consistency between what we say and do. We are selling the Brazilian kind of dream and sharing that beauty. It's important when sharing this beauty, acknowledging my product is made in Brazil. We are trying to give you a Brazilian product made by a Brazilian.
I believe there was also another product with coconut?
So the coconut collection is something that is new to the US market, we have had this product in the catalog for some years but we never launched in the states. We felt there was something we could offer. Coconut in Brazil is not a big deal because we have it everywhere. We decided to push this particular range of products because we have some kind of legitimacy to sell this type of product.
I have tried and love your products. I am really excited to try the new items.
This is why you and everyone here are completely fundamental. Our main challenge is to give the product the opportunity to be used by the main consumer. We know the moment the consumer is using, she's a client forever. The product is good, I don't know if it's the best, I think it's the best, but this is the market. We know if we give the chance to the product, we won the challenge.
It's definitely a win win for my natural hair that has reduced in breakage and grew since I started using this brand.
Some key points about the two new products:
Novex Brazilian Keratin Thermal Protector Styling Leave-in Spray:
Frizz control
Detangles hair
Repairs damage
Prevents split ends
Color protectanat
Heat protectant
Novex Coconut Oil collection:
Intense treatment
Restores shine