Images by: Nick Tsiro
So the morning session ended and, after a complimentary facial from Lab Series: Max LS and a pre-fashion week yoga class with our style editor Ikponmwosa, I was ready for New York Men's Day at Dune Studios, take two. I grabbed our new photographer Nick and got to work.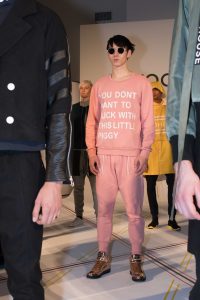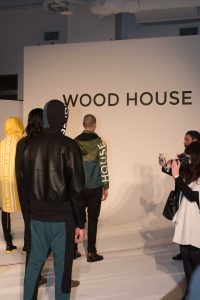 I'm sure you can tell how excited I was to cover By Robert James so you already know that everything else had a lot to live up to. Wood House was first on the chopping block and it didn't quite make the cut. Chrome sneakers, which come in Cerulean, Rose Gold, and Black, are easily the strongest pieces of the 2017 Fall / Winter collection, and the color schemes of the different outfits work well together, but that's about where the cohesion ends. Track pants and plastic sunnies pull the line's vibe towards "EuroClub: The Morning After" but pink cotton pullovers channel "Santa Barbara Stoner." Also, personally, I have a hard time liking a brand which prints its name on all its clothing, in ALL CAPS, although I realize that Wood House is hardly the only label guilty of it.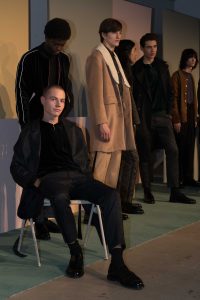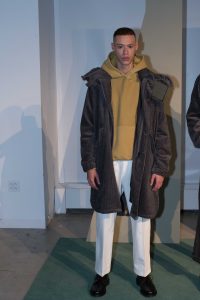 Maiden Noir was similarly hit and miss. Ankle length camel jackets felt really copy-and-paste, in that sort of J. Crew / Brooks Brothers way, especially because neither the buttons nor the interior lining had interesting accents. On the other hand, the corduroy trench coat and goldenrod hoodie outfit is so well put together that I envisioned myself wearing it, despite a personal indifference towards corduroy and a gentle, self-imposed prohibition against wearing two outer layers at the same time. If to you well-dressed means having gloriously idiosyncratic pieces but you also feel that peacocking is obnoxious, then Maiden Noir might be worth a look.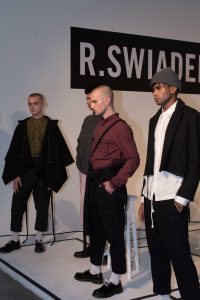 R. Swiader, a breakout brand which fuses the heterogeneous urban landscapes of Paris and Brooklyn with the folksy Polish countryside, was much more consistent, even if it didn't quite hit the same highs as some other labels. Black and white outfits live and die by the designer's attention to detail, their ability to make subtle sartorial choices which accentuate the job each piece of clothing does, and the aesthetic principles the set displays as a whole. Here, the buttonless jacket, bulky shoes, rolled up ankles, and cord hanging off the waist lend a rare and much appreciated gravity to what I normally call the Amish or Hipster? ensemble. Thank you for restoring my faith in the utilitarian, Mr. Swiader.
The "Polycephaly" show of Private Policy was the last stop of the night. I was enamored by their multi-flag jacket, and I feel that it provides the clearest example of their label manifesto. Based mostly on the show's title and my knowledge of ancient Greek, I got the sense that they wanted to showcase a plurality of different cultures without trying to assimilate or incorporate them into one another. Of course, if you plan to run a commercially successful label the resolute decision not to blend can lead to some visually challenging outfits, so I made sure to catch up with the founders to ask what they hope to accomplish. The Chinese-Americans Lower Manhattan natives explained that they're not trying to make haute couture; they just want to design interesting clothes which their friends or other people around Chinatown would enjoy wearing. If in the end they make something strange, or even generally unwearable, so be it.
I don't think that they have entirely the right attitude, but I do have to commend Private Policy for their commitment to crafting a single organism from disparate parts. The pair fashion all of their samples in New York before shipping them to China, where large scale production takes place. I also found out that they're very cognizant of the historical and political context in which they're situating themselves, as our discussion touched on the Qing Dynasty, Manchu-Han relations, Muslim enclaves, the Boxer Rebellion, and Nixon's bilateral trade agreements. In the end, this smart, fashion forward label works to bridge the gap between quickly polarizing American and Chinese "heads" of globalization, Don't get me wrong, I wouldn't be caught dead wearing anything on the Private Policy runway. But I do want to see what they come up with for Spring / Summer 2018.