Maggie Norris has launched her latest collection and it is as divine and wonderful as the charming designer herself. Inspired by nautical and military influences, and 1930s Portland Oregon mixed with Saint Tropez, exquisite couture pieces (red-carpet and cocktail frocks, coats, jackets, etc.) feature plenty of antique buttons, epaulettes, and long dramatic trains. Norris also enjoys collaborating with artists, and for this line she has worked with illustrator Anna Kiper.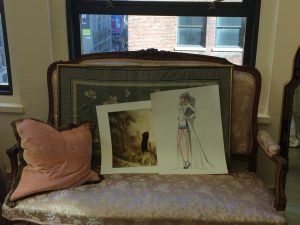 The color palette features navy, red, white, and "Bill Cunningham" blue for the American fashion photographer famous for his images of New York women. Cunningham contributed significantly to fashion journalism and blue was his signature color.
Norris creates two collections per year for an upscale clientele of well-heeled socialites heading to the Met Gala, and A-list celebrities including Diane Keaton, Nicole Kidman, Jennifer Aniston, Alicia Keys, and more. Norris has dressed Audrey Hepburn! "Style should be timeless, and fit women of all ages," concludes Norris. Indeed, Norris' couture designs compliment all sizes — it is comforting to see a size 16 1/2 dress form in her work studio — the key is superb tailoring.
Her current collection boasts 15 pieces of haute couture and yes they are labor intensive. For example, the seamstress Judy will take two weeks to do a short jacket, and more time is needed for long coats, etc. Also available are accessories including a bag to carry wine bottles, covet-worthy on-trend chokers, and a complete line of sunglasses influenced by Old Hollywood screen and beauty icon Marlene Dietrich.