We all know Sherri Shepherd from shows like The View, and blockbusters like Precious and Madagascar 2, but soon she will also be known by her unique wig collection "LUXHAIR– Wigs by Sherri Shephard"  This new business venture is one that is close to Shepherd's heart which is why she has made it her mission to create the highest quality and most innovative wigs in the market.
Each of the wigs featured in her collection is made up of a special blend of colors that mixed together provide a one-of-a-kind color. These wigs are also ready-to-wear,  pre-styled and treated with Keratin to stand up to heat and humidity and say goodbye to bad hair days.
From short and sassy to big and bouncy, Sherri Shepherd wigs are versatile and have all the on-trend looks you love and are looking for. Fashion 360 Mag met with Sherri at an intimate sneak peek of her collection this past Thursday, Jan 26, where she dished out everything there is to know about her wig collection.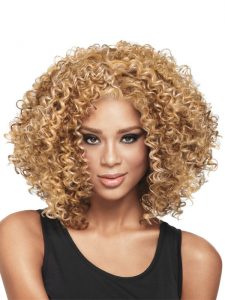 How did you get into hair?
My grandma and mom were the first women in my life who I saw doing wigs and the moment I saw them instantly becoming a new person, I was hooked. My mother used to rock 2 wigs, and I always thought my mother looked so beautiful wearing them. As I grew up I also understand that in today's society, women are always on the go, and a wig is the most versatile accessory any women can have simply because you can put it on and you are ready to go.
How many looks in the collection?
There are 14 wigs in the collection and they come in 15 colors each and I love it because it gives people options to do something different. I carry different styles like long, short, mid-length, bang, layers, highlights and all of the wigs come in different colors in order to make it look very natural. I want people to look like they can face the world without a problem when they go out and not think about their wig because they know they are rocking something close to real.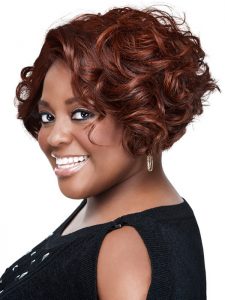 Can these wigs be styled?
Yes, you can use a curling iron and heat until 325 degrees, you can put rolls in them, and even washed it with regular shampoo and let it hang dry and you will be good to go.
Are the wigs size adjustable?
All of the wigs have an adjustable strap which can also be cut off if you don't need in order to make it fit your head to perfection.
How do you come up with the different styles?
Mike and I got together to discuss our different ideas and the next day he would bring me four prototypes.  I would try them all in order to see if I could manipulate it myself, I wanted to make sure it was something I could wear comfortably and wasn't self-conscious about, then I would approve. We discussed back and forth and once we made up our minds, they were taken into production.
When will the collection launch?
The collection is out in the market, and you can get them here. They are also available at QVC where you can buy them in three easy payments.