Last week we lost a man often dubbed the "King of Sex". Hugh Hefner was affectionately known as "Hef" sadly passed of natural causes at the age of 91 leaving behind a legacy that changed the way we view and talk about sex. The first issue of Playboy was published in 1953 when Hugh Hefner was just 27 years old. When 51,000 copies of the first issue, funded by a loan of $8,000 and featured a naked Marilyn Monroe sold out, he never looked back. In fact, 64 years later Hefner will be buried in the crypt he purchased next to his first cover star. Although all copies sold out, it was a scandalous and controversial time in America, yet when we look back it was probably the catalyst or at the very least one of catalyst for the sexual revolution in this country.
Hugh was a man who truly lived his business – he was a walking advertisement for the magazine playing the pimp-like mogul with a pipe in his mouth, dressed in silk pajamas and a velvet robe. However, despite the "pimp style" he was a man who made sure that his "bunnies" knew they were cherished and well looked after.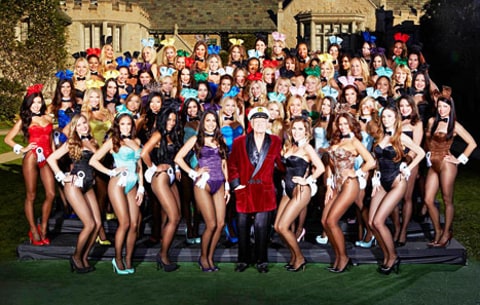 Hefner's empire began to grow into movies, clubs, resorts, tv shows and casinos all featuring the "Playboy bunnies". The bunnies became famous for living at Hefner's palatial residence "The Playboy Mansion" where they were spoiled with a luxury lifestyle which included a $1000 a week clothing allowance and access to an in-house salon where treatments ranged from a simple manicure to plastic surgery. On the flip-side, Hugh reserved the right to tell the Playmates if they were putting on weight and was rumored to pitch the girls against each other. As a result of this, the bunnies were seen as another gentlemen's accessory – like a nice car, or a fancy watch. Women were possessions rather than equals yet Hefner insisted he was a feminist, campaigning for abortion rights, birth control, and sex education and also arguing that his normalization of sex supported the women's liberation movement.
Curiously, Hefner didn't start out life as the nymphomaniac he was usually perceived as, in fact, he married as a virgin, having saved himself for the first woman he loved – Mildred Williams. However, Mildred later confessed to having an affair prior to their wedding which Hugh told press had haunted him in the bedroom since he found out. I wonder then, how much of an impact this had on his journey from then through the thousands of sexual partners he had in his 91 years. Did he proceed through a long line of women to overpower the idea that he was a sexual junior to his wife?
The reputation of Playboy evolved over time with the rise of power and equality of women, many celebrities graced the cover and centerfold including Cindy Crawford, Kate Moss, Kim Kardashian, and the legendary Pamela Anderson who's career kickstarted after her cover.
There were times when the Playboy empire looked as if it was going to crumble, at one point Hefner was forced to sell the mansion. Hefner persevered through all the bumps in the road and paved the way for publications who were sexier, raunchier like Hustler and Penthouse. Because of this, there is no doubt Hefner's legend will live on. But, I don't think we'll ever know how he truly felt, Did he love and care for women? Or did he just love sex? Or did he just love having something pretty under his control? Hefner was a walking contradiction for sure and those contradictions added to his mystique. The Playboy symbol will endure for many years to come and that is a testament to the man who one day will be more myth than man.  R.I.P. HEF