Oh, we're going to miss her. She's style, she's grace, she's the one woman powerhouse who has it held down the White House for the past eight years and let's be honest – there's no topping her in any department. We envy the coolest of cool moms mostly for her intelligence and her ridiculously toned physique . There's also no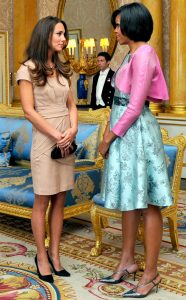 denying that her one- woman style revolution during her time in the White House has made the fashion of politics a little less predictable. Take a last look at some of the First Lady's most epic ensembles. Melania, take notes, you're going to need it.
Next to Kate Middleton in one of her signature neutrally styled outfits, Michelle shines bright like a diamond, donning a  jewel colored, patterned prom-style dress by Barbara Tfank. Honestly, truly, if there's anyone who can make a bright two-toned prom outfit look classy and regal, it's Michelle Obama. Let's also not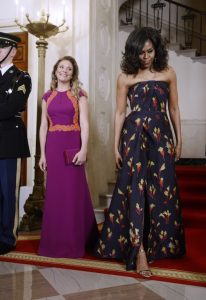 forget that Michelle has singly handedly brought back the kitten heel. While the statement heel has been making a comeback in a big way these last few years, Mrs. O has been donning the functional yet chic shoe since her first year in office.
Talk about a tall glass of of water. Photographed alongside the wife of Canadian  Prime Minister Justin Trudeau, Sophie Gregoire-Trudeau and Michelle Obama both look stunning at the White House State Dinner back in March, 2016. Mrs. Obama's custom navy floral-print gown by  favorite designer Jason Wu  is of course, strapless, to showcase the first lady's infamous clavicles and muscular shoulders. Can we have just half of her upper body strength, please?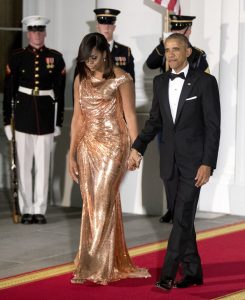 Fast forward to the Obamas' last State Dinner, Michelle absolutely slayed in a rose-gold floor length off the shoulder gown. Is this a look any other First Lady could pull off? Our guess is no. That being said, 52 year old Michelle clearly does not conform to society's expectations of how a middle aged woman should dress. Our type of gal.
Yet another outfit unique to anything the White House has ever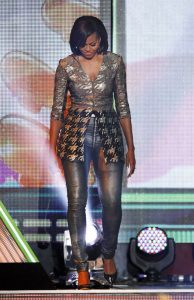 seen, the first lady casually killed it in this houndstooth metallic get up  at the 2012 Nickelodeon Kids Choice Awards. Designed by Wes Gordon, a 25 year old  American designer on the rise, this casual glam look is one of our very favorites. I mean, skinny metallic jeans on the First Lady? Iconic.
Let's Move! The movement founded by Michelle is described on their official website as "a comprehensive initiative, launched by the First Lady, dedicated to solving the problem of obesity within a generation, so that children born today will grow up healthier and able to pursue their dreams […]" While the outfit above isn't particularly interesting, what's more stylish than the notion of keeping the next American generation healthy and in shape?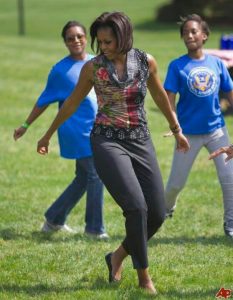 Mrs. O has accomplished every one of the intentions she set out to.
Creating a healthy start for children
Empowering parents and caregivers
Providing healthy food in schools
Improving access to healthy, affordable foods
Increasing physical activity
Her progressive style won't be forgotten, and more importantly, her ambition and work ethic will forever inspire women, both in and out of the White House.