and Sustainable: Back To School Edition
In this era, being organic and sustainable may be a constant reminder in your head or a fleeting thought that comes once in a while. Either way, it probably isn't something you think of when it comes to going back to school. Here are some easy ways to do so: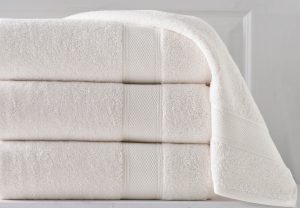 For the home or dorm room, Grund towels are the way to go. This Czech family owned company has expanded world wide but has never strayed from its good for the planet and for consumers motto.  It's 100% organic Turkish cotton and commitment to uphold Global Organic Textile Standards makes towels and rugs extremely soft and durable. Grund America Vice President and General Manager Michael Twer stated,"We make high-quality products and validate every step in our entire supply chain to ensure no harmful chemicals are used from the field to finished products. Consumers can feel good knowing each towel is responsibly made to the highest social and environmental standards." There's nothing better than purchasing something that's good for you and the earth.
On the topic of homeware, Sateen eye masks from Coyuchi are also the perfect way to pamper yourself with plush softness and support a company committed organic business. At a mere $18, the product will lull you to sleep with a 300 count silky weave and lined with terry cloth. Woven in India, the cotton is 100% organic and sticks to the Global Organic Textile Standards and is Fair Trade Certified. Buying an eye mask can seem like a minute detail in your life, but even one purchase supports a cause that more companies should consider.
Harmless Harvest began in 2009 by two founders in Brooklyn, New York and built its first factory in Thailand in 2013. Since then, the company has often experimented with different flavors/ products, but the only product lasting to this day is the original coconut water. The signature pinkish beverage capped with the lime green top is beloved by many; it's a perfect way to be refueled after a workout or to be refreshed at a Fashion360 Magazine Day Party. But what you probably don't know is that the company also provides coffee and probiotic coconut water as well as commits to protecting the world.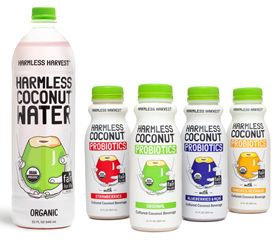 With an ecosystem-based business model, Harmless Harvest not only focuses on organic farming but maintains a Fair for Life- Social & Fair Trade Certification. This award makes sure that the company pays fair prices for the ingredients and that it supports the well-being of the local communities involved in the process. In fact, according to its website, "For every coconut purchased, a premium is collected and reinvested into the community under the leadership of a community committee." HH seems to strictly follow the 3 Ps: 1) Product– they harvest only the sweetest, organic young coconut. 2) People–they share the welfare with those who cultivate the crops and with partners worldwide. 3)Planet– they use more eco-friendly plastic bottles… What's not to love about them?
Not a fan of sweet coconut juice? Don't worry– Waiakea Hawaiian Volcanic Water is here for you. As an award-winning alkaline water, this beverage is also the only certified CarbonNeutral bottled beverage in the country. If that's not enough,  it is also recognized for ethical initiatives that benefit communities all over the world. With Labor Day BBQs approaching, introduce your friends and family to this unique drink! It's already appeared in People Magazine, Forbes, Good Morning America, and plenty more organizations.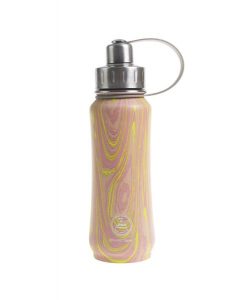 If you want to take it a step further and believe in using absolutely no plastic for toting beverages, take a look at the triple insulated water bottles from Green's Your Colour. Based in Canada, the company dedicates itself to designing high quality, beautiful bottles and promote sustainability. Hot beverages can be contained for 8 hours and cold ones can last up to 36 hours without staining the bottle with flavor. On top of that, the material of the bottle prevents condensation, leaks, as well as loss of the cap. Ranging from $30-45, the practical bottle will basically pay for itself.
Upkeeping an organic and sustainable lifestyle may be daunting at first, but remember that any small thing you do makes a big difference. By supporting these sustainable companies, you as an individual are raising more awareness for and supporting these fantastic initiatives as well as doing what's best for your body. These products are helpful in your daily routine, for the most part, so why not choose the organic and sustainable way?