There is no mystery behind why salon appointments with Michael Canalé are so sought after by celebrities and people alike. Just after a brief fifteen-minute interview, I realized that words are not enough to convey the vibrant essence of Michael Canalé, who is practically a member of hair-coloring royalty. Kind, down-to-earth, and positive—Not to mention his specialized hair coloring technique and new products. Most people know him as the man behind Jennifer Anniston's highlights and co-founder of "The Rachel" haircut from the hit sitcom Friends. Yes, this was an integral part of his career, but let's dive into the rest of Canalé's story.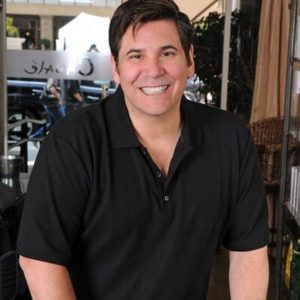 Much to my surprise, Michael Canalé was a Math/Science major in college. Studying to become an engineer, he completely changed his career direction after talking a couple of successful hairdressers at a dinner party. This was a time when there was a surplus of engineers, so Canalé decided he would combine his two growing interests (science and hair styling) and delve into the world of hair coloring. When I asked how he found the courage to leave college and go to beauty school Canalé answered with my favorite quote of the day: "You're guided to the places you're supposed to be…You just need to be open-minded"
By the time he was in beauty school, it was the era of hair perming and coloring. But, Canalé took a different approach and began to differentiate himself with more natural-looking hairstyles by closely controlling the coloring process. For example, he is a strong believer in "paper-thin highlighting," a time-intensive technique that gradually creates a color change. Canalé revealed that Jennifer Aniston's iconic highlights took two whole years to complete. Over time, more celebrities became infatuated with his work and he was soon known as the colorist to go to.
Now, Canalé has created his own line of hair products by taking advantage of his scientific background and teaming up with doctors. This is his way of giving back to the industry and promoting healthy hair for the average person. His new line has special, non-evasive formulas that don't lift the color from hair and that takes care of the hair from the roots to ends. It's the perfect shampoo, conditioner, and vitamin/nutrient supplement for all types of hair. Although his favorite part of being a hair expert is being able to interact with clients, he did hint that he will continue to devote time to expanding his product line.
Shifting away from his personal life and work, I inquired about the popular holiday hairstyles he would recommend to anyone. Canalé responded by making a plug for the simple up-do, decorative hair combs, and fresh blow-drys at local dry bars. If you wanted to keep up with the trends, this season's hairstyle is an easy to manage chin to shoulder-length hair. Though Canalé believes this trend is an effect of last season's obsession with bleach-blonde hair (haircuts re-vitalize hair health), why not jump on board?
Look forward to a review of Canalé's hair products because they seem very promising, based on what I've learned today. This line could perhaps be the answer to your hair-care problems!