Single, in a relationship, divorced, or in between? Have a Valentine, don't know, or don't have one? Devotion Vodka, is gluten-free and sugar-free, can be your bae for the night. I know, how can vodka be gluten-free and sugar-free while maintaining its flavor. I told my coworkers about this new vodka and most asked the same question "how the hell?" "Is that a scam?".
Their skepticism prompted me to embark on the mission of proving them wrong. I mean, who would say no to vodka? To test my experiment, ( mostly to prove them wrong) I set up a Friday night dinner party with friends. Yum, Korean food. My friends and I made cosmos with cranberry juice. To get a real unbiased review, I didn't tell some of them the vodka was gluten-free and sugar-free until after to see if that changed their perspective.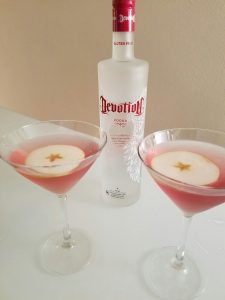 At first try, the vodka felt smooth like water with a kick to it. We set up tasters to compare it to other vodkas of the same caliber. Still, my co-workers said it taste "smooth" and "cannot believe this is healthy. " The vodka fared well but being healthy, it clearly stood as the winner. While being healthy and tasty, Devotion gets the job done too. After two cosmos everyone was having a great time.
Devotion's beautifully designed bottle with a red heart in the middle will make up for the absence of a valentine. Let's face it, you both will be devoted to each other all night. At least this can be a healthy vice.