Fashion is ever-changing, trends come and go yet there are some styles that are also ever-present. Bohemian clothing has been popular since the 60's when hippie fashion came into the mainstream, think floaty skirts, florals, cowboy hats and unisex boots. If boho is your style, or if you're looking for something that crosses boho chic with street style new brand Lakshmi Soul is just for you.
The brains behind the brand are the couple, and world travelers Tani Sanz and Isa Martinez; they have spent the last few years exploring the world, taking inspiration from people, culture, and the environment to create their first collection which launches in January. We spoke with founder Tani to get a little more insight into how their brand was created.
1. How have your travels inspired the brand?
We have been to 25 countries and 4 continents (still America is pending) and in all of these places, we have tried to mix with the people, the way of life of each culture. It means new sounds, flavors, languages and of course, new fabrics and designs that we haven't seen before. When you meet people, it is interesting to find out why different cultures have chosen the colors, designs, and fabrics that make up their traditional clothing.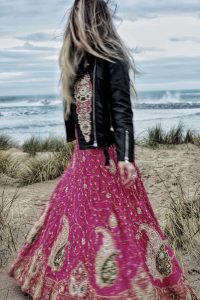 Isa is the designer, and it takes her 5 seconds to see a traditional dress and form ideas about how this can be mixed with other garments – jackets, skirts shirts etc. We decided to make our first collection about India because we were walking in the streets of Jaipur and we saw an Indian bride wearing a traditional wedding dress. Just in that moment Isa, she said to me that she would like to make a customized jacket with a lehenga (skirt of the traditional Indian wedding dress). So, that day we bought a lehenga and she customized it at home and the result formed the beginning of our first designs.
We start to shape the idea of Lakshmi Soul that day and one year later we are just weeks away from opening our e-shop and making this dream part of our life.
 2. How and where are your products designed and made?
For this first collection, we focus on Indian culture because this is where our idea was "born". In this case, we are preparing a collection of exclusive jackets and shirts with some traditional fabrics we have found in India. The products are handmade by Isa Spain and she chooses the fabrics personally. It is important to note that the lehengas used in our clothing have actually been worn by Indian brides, we thought it was important to have a real story behind our clothing. The Lehengas are incorporated into two types of jackets which are Rider (made of eco-leather) and Denim.
 3. What will the first collection include?
The first collection will be just 34 pieces including jackets, shirts with Indian imagery, t-shirts, skirts, accessories such as wallets and home decor made from Rajasthani fabrics. The jacket is our statement piece and each will be numbered as each is unique and thus when you purchase a jacket it will be different in many ways from any other. The jackets will also come with a wooden keychain with a serial number engraved on the back.
4. Your tagline is "wearing love stories", what does this mean to you?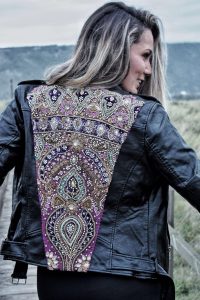 "Wearing love stories" means that when you are wearing a Lakshmi Soul jacket you are not buying just a piece of fabric, you have a piece of life from another person and more specifically from a special moment of that person's life. We know that one of the most special days in a person's life is their wedding day and an important part of the celebration is the wedding dress. Wedding garments define personality and the emotion of a person for their partner: hope, happiness, illusion, love, beauty… We don´t want to sell just a jacket, we want to sell a jacket you want to keep in your closet forever because it will have a story that one day started in India and from the day it is yours the story continues.
 5. You run the brand with your partner, can you tell us a bit more about you both?
We are a couple with a lot of differences but we match each other perfectly. Isa has the vision and the design skills to mix the actual fashion with the traditional clothes we find around the world and I'm in charge of the numbers!
 6. When and where can readers shop?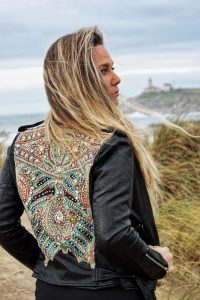 From the second week of January, our e-shop will be open and you will be able to see all the pieces in the first collection. At the moment our website is under development but you can see all about the brand on our Facebook page and Instagram.
Lastly, I would like to add we are trying to be a sustainable company and wherever possible we source eco-friendly materials and products. The keychain we mentioned, that goes with each jacket means that we are donating to an NGO. If you buy the other products without the included keychain you could also buy a keychain separately on the e-shop so that we can donate on your behalf.
At Fashion 360 Magazine, we love to see new brands starting up, particularly those with a global inspiration and a goal to be sustainable. Watch this space for the launch of Lakshmi Soul in 2018!