…..with Gh Lingerie
Feeling good in your underwear is a right that every single person on this planet has. Regardless of gender. As the lines that define gender continue to be blurred, the concept of lingerie as apparel that makes women feel sexy is transforming into the concept of lingerie being apparel that makes everyone feel comfortable and sexy. Underwear is like a second skin so we should feel as comfortable and wonderful as we do in our actual skin.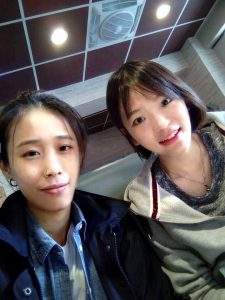 Gh Lingerie is a new underwear brand created by two friends, Gale and Rachel, based in Taipei, Taiwan. The apparel entrepreneurs believe everyone should truly love their bodies and rock glamorous lingerie regardless of their gender. Comfort, surprise, and taste are the three key elements to Gh Lingerie, the materials and design have been carefully curated to give you simple sensual pieces that are custom made to flatter each and everybody. With Gh you can enjoy a wild night with your partner, a delicious comfort under your work clothes or appreciate some self-indulgence alone in your boudoir – the choice is yours!
The design concept combines sweets, senses and our most often worn piece of clothing: underwear. The inspiration behind the design of this lingerie is to erase the notion that lingerie is supposed to be purely about sex – it can be about fun, happiness, confidence or the excitement felt when opening a gift. And it is not just about men's pleasure, Gh wants to enhance the fun between two people, for pleasure in equal measure. Even nowadays, when the fluidity of gender is not a taboo topic when people think of lingerie, they think of the female body and typically a skinny female body.
Gale and Rachel believe that everyone has the right to show, and feel good about their body so they wondered if they could do more for people no matter their body shape. That's why every piece of lingerie is custom made – so you don't have to care about fitting into a certain size, or having material in unflattering places on your body. Gale and Rachel have seen that for the transgender community, in particular, lingerie that fits well and is comfortable can be hard to find so they want their unique designs and custom order retail model to change this.
If we were you we'd choose:
What's next for Gh?
Having delved into the further sensory experience of lingerie, next Rachel and Gale are eager to involve smells, whether this is working with incense or other scented products they're not yet sure. They're also inspired by the art of showing fashion and want to curate an exhibition style show to illustrate their collections. Watch this space!