The Transformation Tuesday of Crocs
They came into this world in 2002 at the Ft. Lauderdale Boat Show in Florida; they were just boat shoes then, made out of a pillowy foam resin called Crosolite. Two hundred pairs were manufactured for the event and all would be sold over the course of five days. By 2004, these shoes would come to be known as Crocs and by 2006; they would be raking in a sales revenue reaching $322 million.
Crocs, the perforated, shiny sheened foam clogs that have been worn by celebrities, royalty, government officials and common folk alike, have been ridiculed and celebrated throughout their 15-year existence. As Crocs reached mass-market acceptance in 2006, a un-ending controversy sparked within the media. The debate on whether Crocs were tasteful or not, or if such a concern even mattered because of how comfortable they were, sparked countless TV news segments, blogs, and articles. Publications including Refinery29, The Huffington Post, The New York Post, and The Washington Post openly called the shoe "ugly", yet style icons like former First Lady Michelle Obama, Dutchess of Cambridge Kate Middleton, Brooke Shields, Helen Miren, and Rihanna have been spotted publicly wearing Crocs. In 2010, Time added Crocs to the list of the world's "50 Worst Inventions", saying, "they just might be attractive enough to do your laundry in."
The popularity of Crocs began to fade dramatically over the next few years, and by 2014, Crocs Inc. announced they would be closing 75 to 100 of their 624 worldwide stores. Three years later, with little financial improvement to show, Crocs announced they would be closing additional stores, slimming down their total number of retail spaces to 400. It seemed that the end of the foam footwear company was in sight.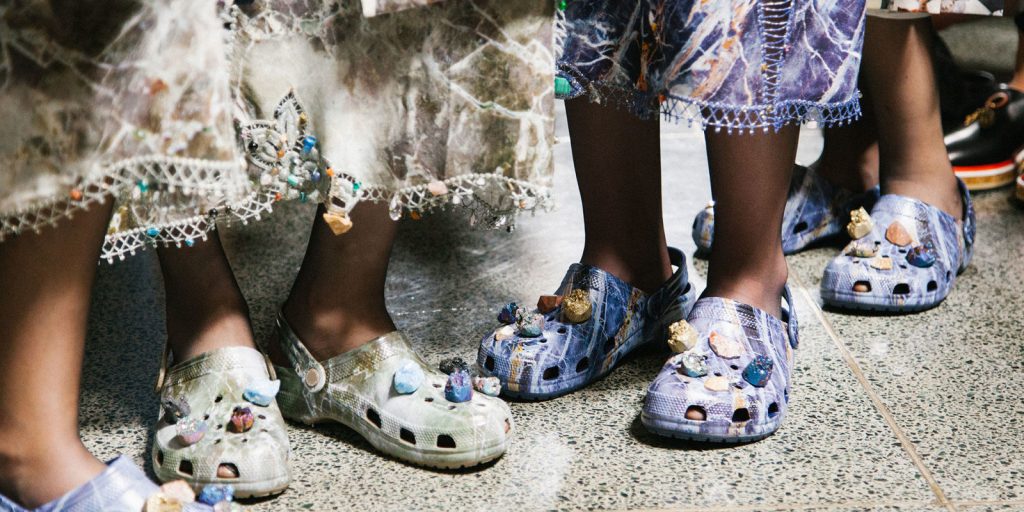 Then came Christopher Kane's SS17 collection during London Fashion Week, which featured a collaboration with Crocs. Kane's interpretation of the Crosolite clog came in a variety of colorful marble prints, which were fur lined and encrusted with geological gems. The designer would later defend his love for Crocs, telling WWD, "Crocs are great, I love them…I don't really care what anyone thinks. I don't think anyone's got the right to say right or wrong unless they're God, otherwise just shut up." Critics who reviewed Kane's SS17 collection prosed an opinion not heard by fashion insiders before; it was an admiration for the foam footwear. WWD would go one step further by suggesting a future for Crocs with a piece titled "Are Crocs Headed for a Chic Turn?" while Vogue stated that Kane could convince the fashion world to love Crocs with an article titled "Can Christopher Kane Make Crocs Covetable?" Kane would show another iteration of Crocs for his SS18 collection. This time, giant jewels and bright hues decorated his clogs, and again the fashion world went wild.
Kane wouldn't be the only designer to take a turn at reinventing the Croc. This past Sunday, Demna Gvasalia sent models down the runway for Balenciaga's SS18 Paris Fashion Week presentation in four-inch heel Crocs that came in bright yellows, purples, and greens and were covered in a number pins. Reactions were mixed, as Forbes deemed Gvasalia's Crocs as "the ugliest shoes ever made." Whatever the responses may be, good or bad, fashion has given new life to Crocs.