Four Brands for S/S 2018
Fashion 360 Magazine had the opportunity to preview the new Spring/Summer 2018 collections of Ben Sherman, Bedistu, Body Glove, and Bruno Magli. Here's the lowdown on what's upcoming for these fashion-forward, iconic brands:
Ben Sherman: The youthful, eclectic British designer never disappoints! The S/S18 collection takes inspiration from the Bohemian and psychedelic movements of the 1960s. Further, the line gives a nostalgic nod to the music and iconic festival posters of the 60s. Embracing the effortless style and flamboyance of that decade's "Peacocks," the moniker given to men who pioneered a distinct and colorful dress sense, the line sees traditional patterns given a contemporary twist for modern men. For example, sharp, warped patterns are teamed with classic stripes and checks that are given an irregular twist.
Tailoring is soft and relaxed, creating a contemporary silhouette that is still reflective of the season's psychedelic inspiration. Rich patterns include florals, vintage, British, and Spring floral art, yet set against functional wardrobe pieces — such as shorts, blazers, and soft linen separates. To balance the free-spirited patterns, the palette remains rooted in indigo and denim shades for outerwear, with bolder hues of brick and tan, claret red and soft pinks. You must wear Ben Sherman with both confidence and humor in your blood!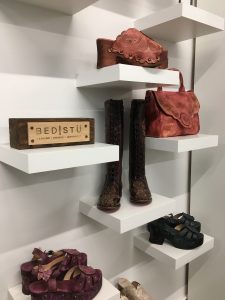 BED|STÜ: This company is inspired by the resilient streets of our hometown, NYC (think Bed-Stuy), and then opened for business in a small Los Angeles warehouse in 1995. Their mission remains to take time to create products, leather shoes, boots, and bags, that are hand-crafted to honor the cobbler and craft. As a result, each product is unique — The leathers are hand cut, hand sewn, washed, tumbled for softness, and individually hand finished. Incredibly, from stitching to finished process, over 250 steps are individually taken to create each pair of the welted line!
For the new collection, the design inspiration comes from European bakeries with the light dusting of flour on artisan bread. The finish is inspired both by the natural bleaching effect of the sun and ocean salt on driftwood, and also the maple leaf for its caramel lux finish. The likeness of manhole covers inspire the rubber outsoles.
BED|STÜ is an exciting brand, striving towards becoming 100% organic in their process. Recently, they collaborated with edgy designer Anna Sui for her recent NYFW runway show. Hopefully, we'll soon see a stand-alone boutique from them on the East Coast.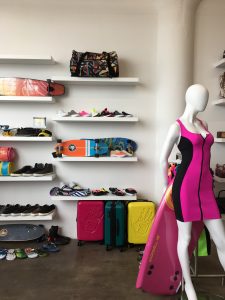 Body Glove: For 2018, the company celebrates 65 years as a leader in the industry with a rich heritage. It is indeed recognized as a trusted outdoor, active and lifestyle global brand. They are continuing to develop products with the same creativity and innovation as when the brand started in 1953 — they designed the first practical wetsuit! Body Glove's loyal customer base love's the ocean and sand, so the company remains committed to building products that enhance and protect both above and below the water's surface. For 2018, you'll see the company's famous neon bright colors (in pink, green, yellow, blue, and green) in addition to patterns inspired by nature like florals and butterflies, in multiple product categories for men, women, kids, and soon pets: fashion apparel which includes athleisure, footwear and accessories, travel and home, seasonal for beach, boards!, and technical and hardgoods.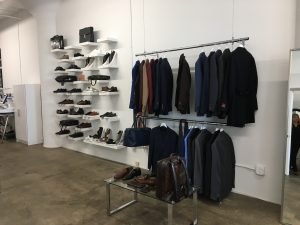 Bruno Magli: Look for exquisite, classy stylish fine footwear for men and women in 2018. Types include short boots, loafers and cool sneakers for him; and strappy sandals and mules with signature "M" plate for her. The colors include rich earth tones in brown, taupe and cream, and some colors like turquoise, salmon, gold, and silver. Of note, blazers with tuxedo lapels are an exciting new offering. While a luxury brand, the price points are attainable, and footwear is functional as they can easily transition from day to night.