I recently found a new nail shop that quickly became my go-to. Why? They give two complimentary cocktails with each pedicure or manicure you buy. The second reason is the glorious five-minute massages that I wish lasted twice as long. This is how I feel about the end of Summer. I feel like it lasted five glorious minutes and the time is quickly ticking to an abrupt stop; better known as Fall.
So what do we do when we're clinging to Summer but inevitably being sucked into Fall? Personally, I'm stubborn and don't change too much but make it work. Here are three of my top tips for making the transition smoother:
Accessories: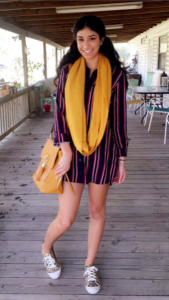 Layering and thicker fabrics allow for bulkier necklaces, so whip out that costume jewelry. A pair of high socks can fix both a skirt and an open-toe heel issue that may arise due to a brisk Another helpful add-on could be a scarf or head wrap. Both scarves and head wraps come in an array of colors and patterns and are also super inexpensive, so buy as many you'd like and get creative!
Layering: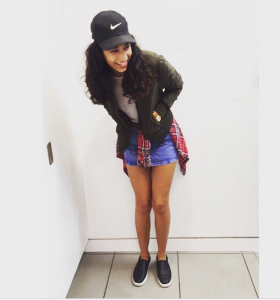 You don't have to give up your Summer clothes just yet. Begin stacking plain white v-necks under your tanks, stuff turtlenecks into your dresses, or slip some pants under an oversized tee or skirt. The clothes can be as bright, colorful and summery as you wish, all while keeping you warm and "appropriate." A classic leather or denim jacket is also a good investment seeing as these will never go out of style and can be worn with anything and everything. Leather jackets can still come in fun colors and denim has different shades so the layer isn't too stifling or bulky.
Contrast :

Contrasting colors can be a really easy and appealing way to convert your Summer looks to Fall. This is especially true since some of the most popular colors this Summer like mustard yellow and blush are so dramatically fabulous with warm Fall tones. Here's what I say: Match your mustard yellow with grays and blacks and put your blush and rose colors with chocolate brown. Whip out your color wheels and experiment a bit! Not only will you be able to stretch the lifespan of clothes from seasons passed but you'll also be making a bold statement in the streets.
Although I'm a bit bummed that I'll have to start choosing Fall-colored nail polishes soon, I will still be at the salon faithfully! This it'll be with a scarf, a tee under my tank and just a bit of black…. No pumpkin spice latte for me! (I'm not that committed.)