In more ways than one, fashion reflects the times; it always does. Of course, there's a lot that can be said about the times we're living in now, a lot of bad but also a lot of good. I hope I don't need to say anymore, but maybe the most condensed, big picture way to capture all of our sentiments might be to call 2017 some combination of "energetic" and "contemplative." So, if we wanted to dress for the times we might want to wear something quirky, inspirational, visible, and with roots as deep as the changing autumn leaves. We might want to choose yellow.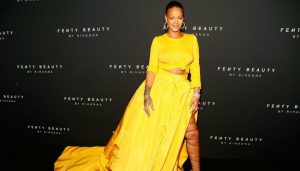 Rihanna, always the grand dame of style, gave us a heads up to this trend when she donned a geometric, supersaturated dress for the launch of her Fenty line earlier this month. I'm even tempted to say she stole the show with it, but in reality, her decision to make both "natural" and airbrushed looks open to literally everyone with foundations in 40 different shades was probably the highlight of the night. But the dress was stunning, and her mid-riff exposed by the two-piece cut really amplified all the Afro-Andalusian liveliness that yellow brings to a night out. I will say that in terms of all of us following her lead, it's a little tough on this one because few have the cheekbones/waist combination to counterbalance such an angular, billowing train.
There are however other haute couture options out there this season. The Versace line is a great example of designers taking that yellow pop and kind of working into two-dimensional patterns, so that it still looks good as a silhouette, and can be put on pants, a blouse, or a jacket. The end result still pulls from those interesting modules of Greco-Roman architecture which Versace has always made its name on, and actually the net effect of "graceful bees" meshes really appropriately with the feminist leanings of Gianni Versace and some elements – like Beyhive, and the Bumble app, and the latest season of American Horror Story – which buzzes around our collective cultural consciousness. Interestingly, this season marks the very first time Donatella dug into her brother's notes in supplying design material for a line, and she chose to do that because it is the twentieth anniversary of her brother's death – a death which will soon be commemorated by the next season of AHS creator Ryan Murphy's American Crime Story.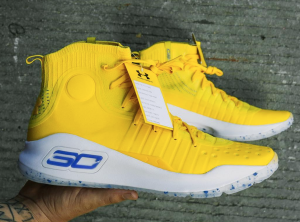 Even if you're just trying to dress down for the day, yellow is very much the way to go. Steph Curry, who with his latest actions proves he is a warrior and symbol of the times, just dropped his Curry 4 line through Under Armour and the shoes are lit or maybe, more appropriately, straight lightning. I'm actually a little bummed because of the hi-tops, which I think looks the nicest, only exist in limited sample quantities, and won't be hitting stores anytime soon. Also, I'm a LeBron fan. But still, I do have to say that they do a beautiful job integrating the foam accents and cushioned, breathable body with the duochrome palette. The end result is both retro and futuristic at the same time, and very solidly functional, almost like snowboard designs or surf goggles from the early 2000s. You'll have a lot of fun tearing it up on the court, or even just walking down Broadway, and, as always, you'll look great doing it.