…Local Thrift Store
Some might say if you're just now shopping for Fall, you're too late. This may be true unless you fall into your local thrift store! We all know that we can find hidden treasures and vintage pieces in the thrift store, but did you know you could find trends for Fall '17? You could walk out looking you're straight from the NYFW runway. Here's one thing you should definitely be looking for this season: suits.
Structured suits, pant suits and the broad shoulders that top them off are back in the spotlight. The beauty of this is that they were already here once and then they ended up in thrift stores, which is where you can now find them all at great prices! I took a trip to my neighborhood thrift and hit the jackpot. Let's talk about some favs.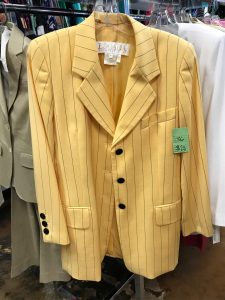 My number one is a yellow, pinstriped Escada blazer. I did my Google search and couldn't find a thing like it, but my guess is it would be upwards of $1,000 new and many are still more than $100 on eBay and other sites. Meanwhile, this gem is in mint condition, is obviously quite unique and was only $20. It is equipped with black pinstripes, shoulder pads, prominent buttons and a vibrant yellow color that are all specific to the Escada brand and detail. I literally could not leave this one on the rack. The blazer itself is perfect for Fall, but the color is also suitable for those of us who have a harder time making the transition to Fall colors. It also fit me as an oversized jacket which works well for the earlier months of the season when you can still get away with a dress, skirt or even a tank.
Another eye-catcher was a nude Oleg Cassini pantsuit. This suit is polyester. Polyester! Are we spies or what? The concept is great and something I myself have not seen too often. Not to mention it is pretty gender-neutral. Needless to say, this pantsuit means business with its tailored seams. Coming in at $32, this timeless piece is a must. You can bring in the neutral, soft tone for Fall but still spice it up with a darker contrasting color. You can go business with a blouse or button up under or really rock some street style vibes with a fun graphic tee.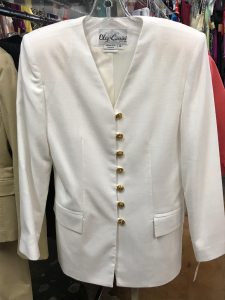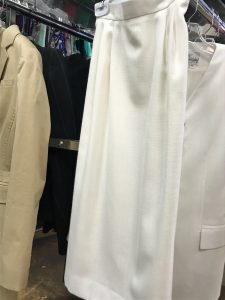 The last suit of the thrift was yet again, Oleg Cassini. Cassini was well-known for bridal and this final suit follows… suit. With its pure white color and elegant, detailed buttons it looks like it's straight from the set of The First Wives Club. We see the shoulder pads again and some crisp lines in the jacket for a structured look while the matching skirt leaves a little slack (to keep it classy I assume). The length of the skirt is something I absolutely adore for Fall because I cannot give up skirts no matter the season but I also don't like my knees knocking together because of the cold, so this length is my happy place. You could also go without the jacket and pair the skirt with a heavy tee or sweater for that traditional all-American girl look. Anywho, the color may not be what you think of for Fall, but the style, material, and lengths are ideal. Do you dare wear white after Labor Day? I couldn't find the price tag on this one but I can almost bet it's $32 and to look like a cast member from The First Wives Club? Priceless.
Happy thrifting! I hope you "Fall" in love with something that "suits" you.