Spring 2018 shows are rapidly approaching so Fashion360 thought it would be an ideal time to reflect on some of the most common trends seen from the fall 2017 collections. One of the most eye-catching trends of fall 2017's runway looks was the usage of bright, bold reds. Givenchy's ready-to-wear collection this year consisted solely of this statement color. The first look of the collection was a silhouette-fitted jumpsuit with Givenchy's name laid out in white block letters across the bust. If this piece were to stand alone, it would lack any sort of "wow factor" or originality. However, a translucent veil attached to a devil inspired crown hung over the entirety of the body. The collaboration of the pointed horns, ghoulish veil, and tight bodysuit created a mysterious, wedding-gone-wrong effect.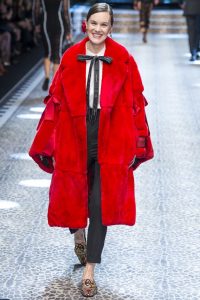 Dolce and Gabanna also followed the bold red incorporation with one of the earliest looks involving an oversized fur coat. The coat was segmented into three tiers and brought down to knee length. The sleeves passed further than the hands and created an enveloping sensation. The symmetrical, large flowing ribbons on both sleeves enhanced the movement of the piece.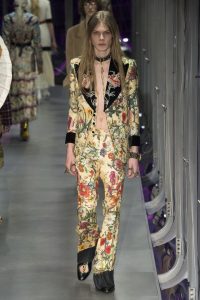 Another trend that was heavily used was intricate, floral patterns spread across a variety of different pieces and designers. Gucci used this design multiple times and expressed a unique mood with each look. One of the Russian-doll, floral, feminine patterns combined with the masculinity of an open-chested suit. An edgy, thick, black studded choker with a gold chain resembling a dog walking instrument dangled down the open front. The mix of the flowery pattern on the suit topped off with a choker created the perfect blend and balance of feminine and masculine energies.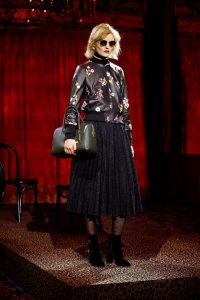 The opening look of Kate Spade also showed off the mixture of opposite moods into a singular piece. She took full advantage of the floral femininity that is so effortlessly conveyed in the brand with a stitched lavender and cream flower textile. However, this was applied to a collared leather jacket zipped to the top. The juxtaposition of the classic, cool leather jacket with elegant florals exemplified the balance of edgy and pretty vibes. The oppositions and bold colors of fall 2017 trends on the runway both contributed to the vocal-less statements made by top designers from this season.