We sat down with Emily Evans, on-air fashion expert for Ann Taylor, to learn how to style Pantone's Color of the Year: Ultra Violet. Read on to hear her tips and how this violet hue is perfect for Valentine's Day!
As a fashion expert, what do you think is the easiest way to showcase Ultra Violet in an outfit? Is there a staple accessory that makes it easier to pull off the color flawlessly?
"Ultra Violet to me is the new navy. We've been treating navy as a neutral, as it pairs well with almost everything. For women who tend to dress in neutrals and are hesitant about incorporating color, Ultra Violet is the perfect hue to mix in. It's a very versatile color to incorporate into your wardrobe."
"I love to add a pop of color to my look through accessories, whether it's a shoe, bag, or silk scarf. It's a misconception that silk scarves are only neck accessories – try one around your wrist, wrap it around a belt, or even your handbag."
What is your favorite Ultra Violet piece from the Ann Taylor collection and why?
"Ann Taylor's Everyday Ankle Pant. It's a challenge to find a high-quality pant that flatters all figures and is wearable for both weekdays and weekends. This pant is one of Ann Taylor's biggest hero pieces. It fits like it was tailored to the body, has just the right amount of stretch, and comes in multiple inseams."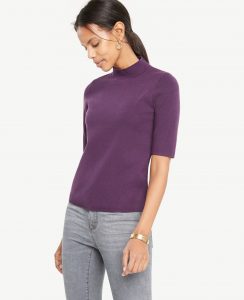 What is unique about the Ann Taylor Ultra Violet collection as a whole?
"Ultra Violet is such a wearable and mood elevating color, not to mention it's universally flattering. Ann Taylor's ultra violet styles have the perfect amount of style and sophistication. Although this collection shares the same color, we have pulled in variety with different fabrics – even velvet."
What color scheme is the best to pair with Ultra Violet in your opinion?
"For a subtle look, I would pair with smoky hues such as greys, lavender, blues, and dusty pinks. For something bolder, ultra violet pairs well with bright and deep reds, and golden yellows."
What do you think will be next season's color?
 "I predict deep reds, crimson and beet hues."
Now on to Valentine's Day: what is your ideal Valentine's Day date outfit?
"My ideal Valentine's Day outfit completely depends on my plans. What's important is that I wear something that makes me feel great while looking my best. That said I usually reach for a dress that makes me feel feminine and confident. Most people think to wear pink or red on Valentine's Day, so I plan to incorporate Ultra Violet into my look so I stand out a bit, but still feel festive."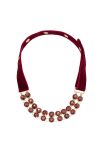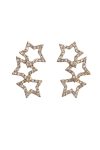 What's the quickest way to look put together for Valentine's Day? 
"For those who will be going from the office to date night on Valentine's Day, it's important to wear something versatile that can easily transition from the office to dinner. For me, that usually means a dress or a pretty blouse that is conservative for the office but in a dressy material. I always bring with me some great accessories that will dress up my looks like statement earrings and a pair of heels."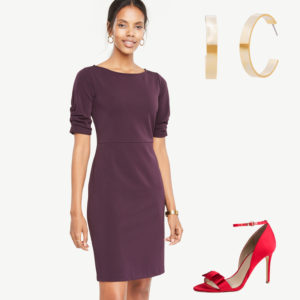 Red/ pink are the classic valentine's colors— is there a way to incorporate Ultra Violet?
"Absolutely! Ultra Violet pairs so well with the traditional Valentine's Day colors. My personal favorite color combination is ultra violet and red. These colors complement each other and add just the right amount of flare."
While Ultra Violet might seem like an intimidating color to pull off, Emily Evans has certainly shared a few helpful tips for everyone. Whether it's a fancy date night or casual everyday outfit, experimenting with new, trendy colors is always encouraged! Good luck!