Ah, it's that magical time of year when the unicorns come out to play and girls with flower crowns frolic in the fields to some really awesome music… I'm talking about Coachella, of course! (or maybe, I'm just hallucinating) One thing's for sure, if there's anywhere you can get some epic fashion insporation, it's at Coachella.
Without further ado, let's look at some of the hottest style moments from this year's Coachella!
1) Mirrored metallic tops
When looking for the best Coachella trends, who better to refer to than the music festival queen herself, Vanessa Hudgens? Vanessa and a bunch of other lovely ladies like actress/ model Peyton List donned some  metallic, mirrored tops. This gorgeous new trend feels fresh and somehow looks absolutely regal, yet also  hipster hottie, very best of both worlds, if you ask me. Talk about getting your glow on!
2) Rainbow braids
Of course, we're bound to see some bohemian braided hairstyles at a music festival, but this year some girls took their hair looks to another level. I'm talking about you, Chanel Iman. The supermodel rocked rainbow braids this year. Her tresses were temporarily dyed in various pastel colors ranging from pink to blue, making for a  dreamy, psychedelic look. Model, Josephine Skriver looked more space girl, yet still just as uber cool with pastel blue space buns, and pastel blue interwoven braids. Yea, before I wear braids in all colors of the rainbow, I need to master how to braid first. Back to looking at Instagram hair tutorials for me…
3) Glitter, sequins, stars oh my.
These days we are all about looking as extra as possible. And if there's one place designed to get your glitter on, it's Coachella. Look all over social media and Youtube and you will see a plethora of makeup tutorials teaching you how to rock the glitter highlighter trend. Some girls approached the trend in more subtle ways like Alessandra, who studded her enviably high cheekbones with sequined star decals. Others, like actress Victoria Justice, framed her eyes completely in glitter and sequins. Finally, some absolutely owned the trend and painted on full on epic glitter teardrops. Just so cool, ugh I can't.
4) Mermaid – inspired looks
Fantastical looks, in general, are widely embraced at music festivals. One fairytale look we couldn't keep our eyes off of were mermaid – inspired fashions. Some girls wore fluorescent aqua body suits, while Paris Hilton achieved a more princessy look in a flowing tribal maxi dress in bright aquatic colors, long, beachy tresses, and a metallic crown fit for a mermaid. Yea so got that? Flower crowns out, mermaid ones in!
5) Cutouts, crop tops and more!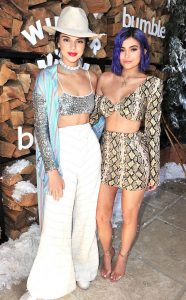 So we are aware Coachella is set in a desert, so obviously it gets hot and clothing with various tasteful (or not so tasteful, but very alluring) cutouts are not only accepted but encouraged. Girls sported everything from cold shoulder shirts, off the shoulder rompers to, of course, crop tops and bralettes.  The Jenner sisters looked glamorous attending one of the parties (that of course, took place in a tent). Kendall wore a sparkly silver bralette, white striped, flared pants and a fedora – very boho babe meets loungewear chic.  Kylie wowed in a snakeskin print asymmetrical crop top and mini skirt, showing off a new electric purple hairdo. Talk about making a statement.