On May 21, the charming K-Pop boy band, BTS, made history by winning the Top Social Artist Award, a category filled with American megastars like Shawn Mendes, Justin Bieber (has won the award since 2011), Selena Gomez (most followers on Instagram), and Ariana Grande. As the first Korean group ever to win a BBMA, BTS made me, a fellow Korean, and the rest of our country extremely proud. In fact, what also made me beam was that they were able to do all of this in their own classy, yet unique style.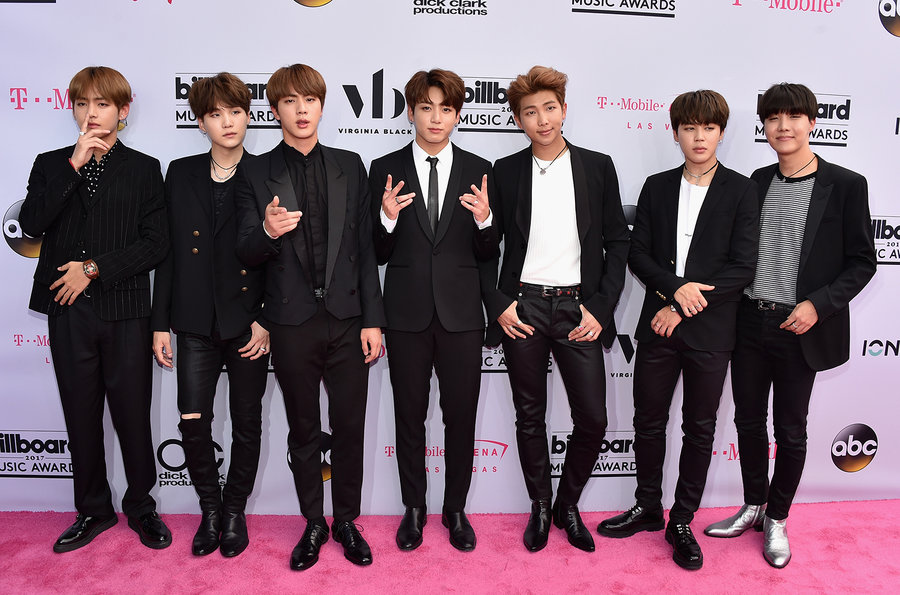 Recognized by Vogue, each of the seven members contributed his own personal spin to the classic black suit. Saint Laurent seemed to be the most common among the group with the exception of a few other big brand accessories. With Korean fashion often being labeled as cutesy, bold, and colorful, the black and white color palette was a nice change of pace for the group.
From left to right, V paired your average black dress pants with a pinstripe blazer and polka dotted dress shirt. Especially because V stuck to the black and white theme, he was able to pull off the usual clash-y patterns with enviable ease. He also added focus points in his outfits with dazzling accessories: a colorful Gucci watch, silver ring, and a pair of earrings. Suga rocked his layered leather chokers underneath a military style blazer; the rough, bad boy look all came together with his slightly torn skinny fit pants and chunky, silver rings. The next member, Jin, built on the concept of stereotypical Hollywood event attire with a tuxedo style jacket and satin lapels.
The simple and monochromatic style, which could be easily under-appreciated, was definitely not overlooked as it enables Jin to enhance his natural swag. Next, Rap Monster, who is the leader of the group, owned the magenta carpet like no other. With a loose fitting blazer over a white t-shirt and leather pants, his black belt with red accents, pendant, and collection of rings would entice any fashion guru. Jimin boldly chose more visible, almost dangling silver earrings to match his tight choker, rings, and shining Gucci watch. Like Rap Monster, he contrasted his black blazer with a white shirt and skinny style pants. His black, glossy shoes with three subtle, silver buckles were my on point with the group's look. Last but not least, J-hope also pulled off the casual t-shirt look with the now trending, striped shirt. He also followed suit with Rap Monster's blazer, but with a different cut of lapels. J-hope also wore a choker, rings, and a stylish belt, but a unique part of his outfit was his sparkling silver boots.
Overall, the group's BBMA debut brought more attention to BTS and Kpop in general. With a larger international fan base, I hope Korean fashion trends become more showcased at these popular American events, and I can't wait to see what other styles BTS will present to the fashion world next.