Have you been lucky enough to find your swimsuit brand for life? The perfect brand for your body with material that is able to accentuate each curve, durable to use for actual swimming, and is stylish enough to take on those beach getaways. What about the perfect smooth towel that is absorbent, easy to pack, and once again, stylish? If not, it's hard to believe that these perfect products even exist. But to get you one step closer, I'm introducing two swimsuit companies rising in popularity and an innovative towel company.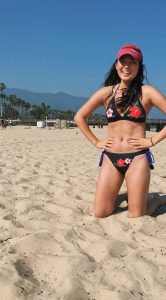 Yandy is a swimsuit brand that I was fortunate enough to personally try out. As a company that also designs lingerie, intimates, and costumes, Yandy has the ability to create pieces of swimwear that are fun and bold. Although it was hard to make a decision with so many trendy patterns and suits available, I opted for the Yandy Hibiscus Bikini. The bikinis are sold in tops and bottoms separately, which makes it easy to mix and match to need or preference. Since I am absolutely not a fan of tight bottoms when swimming for a multitude of reasons, I took advantage of the flexibility afforded to me. Ordering bottoms one size larger proved to be a mistake being that Yandy bottoms already run a bit big. My suit, however, was still comfortable and enjoyable.  Although the cut of the bottoms was high for my taste, I suspect that the affects are less dramatic when they are the correct size.
While I was worried about the possible rough texture that could come with embroidered flowers, thankfully, there was no discomfort with the design of the suit itself besides a tiny bit of stiffness from the flower decor. Yandy is a brand known for stylish designs with affordable prices, and the 2017 swim collection was debuted at New York Fashion Week as well as named the official swimwear sponsor of Miss USA 2017. My experience, when a clothing/ swimwear site has so many options, it's not often for the product to have the same integrity as described online. Yandy is most definitely the exception to this observation. I am excited to see what's to come for this company.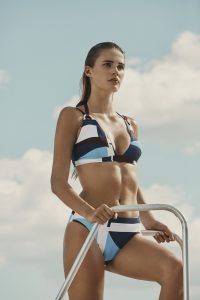 Mei L'ange is a company based in New York with higher end options. Created by Eefje Sarah Dierickx, the swimsuits focus on bold colors and geometric prints that are catered to all body types.  In addition, these luxury suits are made of lightweight and breathable material. Most importantly, each suit forms an enviable silhouette via comfort and abstract designs. A former designer for Calvin Klein, Isabel Marant, COS, and Alice + Olivia,  Dierickx's is the paragon of futuristic and classy. While Yandy has the personality of a fun summer party, Mei L'ange is more like an elegant yacht getaway. Thanks to the company's already futuristic energy and comfort, I suspect that the company has nowhere to go, but up.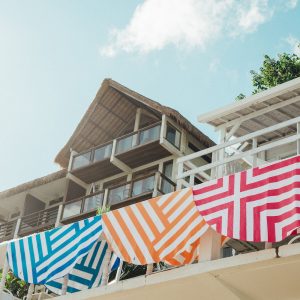 As for beach towels, Dock and Bay will fulfill your every need. Made of microfibers resembling a suede like texture, these towels are designed to be light and absorbent. If the texture nor the signature stripes and bright colors don't draw your attention, perhaps the unique circular designs will. The product comes with its own matching pouch that is extremely portable– perfect to take to yoga, day long excursions, and vacations. Fun fact, the company supplies the largest round towels on the market, a wide variety of sizes that could even be used for cabanas, and a special line of sports towels. There is no questioning these towels' adaptability. This company was founded by two well-traveled males, who are dedicated to promoting a down to earth, anything but corporate, business.  Just check out their website; you will immediately see that that's exactly what they are accomplishing.
Give these a try, and I wish you the best of luck in finding your perfect beach essentials!