Last week, Gloria Steinmen and non-profit organization Apne Aap recognized three humanitarian honorees at the inaugural Apne App dinner reception. The ceremony took place at the stunning Cosmopolitan Club in Uptown New York City. Inspirational philanthropists filled the room such as former head of UNICEF Stephen Lewis and activists like Zainab Salbi. Notable celebrities in attendance were  Gina Gershon, Emma Snowdon Jones, Rosanna Arquette, and Kathy Najimy.
Apne Aap Women Worldwide is a charity focused on empowering girls and women to resist and end sex trafficking by organizing marginalized women and girls into small self-empowering groups. These women and girls work collectively to free themselves from the sex industry as well as advocate for policy change. Started by Ruchira Gupta, 150 self-empowerment groups have formed, helping transform the most marginalized females into leaders who can change their own fates. In 2001, Apne Aap has successfully lobbied for the United Nation's anti-trafficking fund for survivors.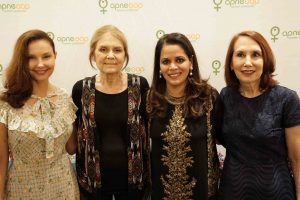 The three recognized honorees included actress and humanitarian Ashley Judd, abolitionist attorney Dorchen Leidholdt, and gender equality advocate S. Mona Siha. Along with being a nominated Golden Globe nominee and Emmy Award winner, Ashley is a devoted humanitarian who serves as a Global Goodwill Ambassador for UNFPA, the Boards of International Center for Research on Women, Apne Aap and Women's Media Center. Judd's speech included personal reflections as a young student in 10th grade making it on her own without proper guidance to get through school while being exploited by her own family and making it on her own. Dorchen's validated her success by thanking Gloria Steinem and Ruchira's journalism that morphed into activism. Mona spoke about how important it is to recognize the fact that anyone of us could've been that girl marginalized into sexual situations.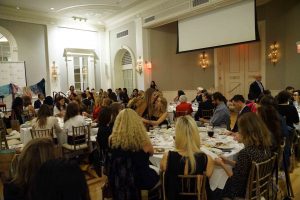 The speeches ended with a short film by Maemae Dylan, a call to action by Girls for the Last Girl. The U.S organization was created to support the work of Apne Aap and was founded by a small group of students. Girls for the Last Girl and Apne Aap are currently asking the United Nations to ensure that by 2030, they meet target 5.2 of Sustainable Development Goals to create a world in which no girl is bought or sold.
Lastly, we caught up with Gloria Steinem herself. If you had just under 2 minutes to interview someone you highly admire, what would you ask them? My initial thought was, I want to know who inspires someone who is extremely aspirational and has been for many years. I asked her who she looked up to as a young journalist. "Louisa May Alcott, I read everything she wrote, whether it was for young women or for adults. I used to imagine that she would come back to life. She was like a friend, and since then I have been gifted with inspiration." Then I asked her, who is someone that inspires her today? "Alice Walker. She see's the world whole. In her writing and in her life, she helps us imagine that we can get there."