When we think of fashion, looking professional, and luxury labels, our minds often think of discomfort as well. The pinching heels, the restricting blazer, that black dress that somehow always manages to ride up– no wonder we've all been taught the beauty is pain. However, a New York City-based brand, Ameliora, is determined to show working women that this no longer has to be the case.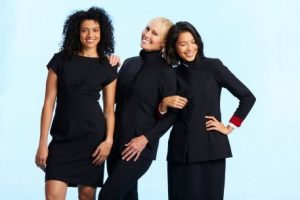 Featuring patented Italian quad stretch fabric with silk lining, the company prides itself on representing comfort and elegance.  Each piece of clothing is made with careful consideration and care: unique cloth covered buttons, special shoulder pads, and well-designed silhouettes are a few reasons why this luxury brand stands out. From trouser-like leggings to divine dresses, no one will ever guess how comfortable you are at work.
The founder is Adrienne Kronovet, whose goal is to help women reach their full potential. Hence, the brand's name stems from Meliora, which means " Always striving to be ever better." in Latin. Although she sticks to a small set of simple designs, she does her job very well. While the pieces are on the pricey side, the classic styles and colors make it possible to upgrade the outfit in infinite ways. Also, who can put a price on comfort when you're in the office all day?