Nestled between majestic mountains and peaceful beaches with perfect weather, Santa Barbara California  is the ideal place for a weekend getaway anytime of the year. It is also the place to showcase your summer wardrobe and showcase that adorable swimsuit or pair of shades. If not at the beach, most tourists find themselves on State Street to restaurant hop, browse through boutiques, or simply soak in the beautiful Spanish style architecture. With so many things to do planning can get pretty overwhelming, but having lived in Santa Barbara for fifteen years, I've discovered the important go-to places to eat and shop.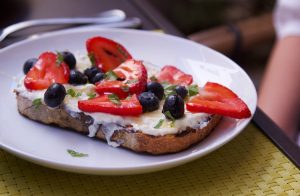 Restaurants: The best places to eat tend to be the ones least visible from the main streets. Santa Barbara has many nooks and crannies, but the hidden courtyards are often filled with delicious eateries– especially brunch places; two of my favorites include Scarlett Begonia and State & Fig. They both are signature places for high-quality food, great photo opportunities, and friendly service. Specifically for this post, I decided to revisit Scarlett with my close friends, and each dish was unanimously rated 5/5. Not only does the restaurant serve an amuse-bouche to each customer, but the menu has food ranging from fresh ricotta toast to a ridiculously delicious egg scramble. Although the restaurant is tucked away, this happening breakfast spot is a must. If brunch is not appealing to you, don't worry, there is an easy solution. In the Northern part of State Street, an entire building named The Public Market is filled with artisan food ranging from a raw seafood bar to out of this world Asian-fusion noodles to handmade ice cream. Designed as a casual, yet trendy hang out location, not only are the restaurants visually appealing, the artisan meals are truly unforgettable.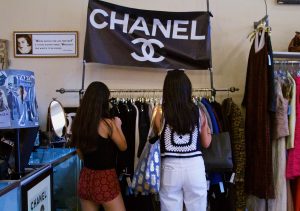 Shopping: Once your body is fueled with food, it is impossible to ignore the shops calling your name. The three types of stores populating the street are high fashion consignment stores, trendy boutiques, and your typical chain stores that have been adapted to fit the relaxed, beachy persona of the town. Stores like Free People, Anthropologie, and Saks Fifth Avenue are consistently popular, but a few more gems were also discovered during our post- Scarlett outing. For example, LF is a store that has locations all over the U.S., but the Santa Barbara store emphasizes a Boho-chic style with its trademark frayed and fringed summer clothing. On the opposite spectrum, there is Renaissance Fine Consignment; dedicated to exhibiting upscale clothing brands from Chanel and Dior to Moschino, the finds are unique and exciting. The visual aesthetic of the store is what draws you in– as soon as you enter through the double doors, it's as if you've entered a magical realm of pure fashion. Each item is carefully cared for by older women, who are the essence of high fashion.
Whether you arrive in Santa Barbara with an itinerary in hand or with a desire to be a spontaneous explorer, you will not be disappointed. Family and single friendly, I have never come across another small town that could offer so much. The comfortable, warm weather boosts your mood, and there is often live ambiance music capable of convincing your mind that you are on a secluded European vacation. Without even walking all the way down to the beach and pier, my friends and I were able to spend a jam-packed day re-exploring Santa Barbara. I can not think of a better getaway spot.