65 Years of Alcone
November 10th marked a fabulous celebration of business success, quality products and the foundation of the entertainment make-up industry (excuse the pun). The 65th-anniversary bash for Alcone was a gala with no expense spared.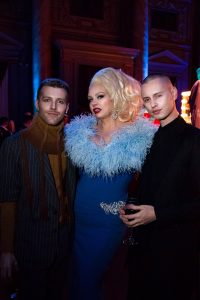 Guests, that included cosmetic industry bigwigs, models, fashion stylists, editors, and New York nightlife personalities, enjoyed hors d'ouevres and cocktails in the grand hallway which had been transformed into an Art Deco New York City street scene (referencing the year of the company's commencement in New York in 1952). Later in the main ballroom a 30 foot long raised vignette held a meticulously recreated a backstage dressing room equipped with vintage attired showgirls who spent the night dressing and undressing in front of the mesmerized crowd.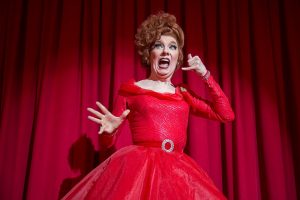 Following performances by music icon Ronnie Spector, a musical tribute to Alcone by Kembra Pfahler and her cult band The Voluptuous Horror of Karen Black, a rare throwback set by 80s drag legend Lypsinka and a fan dance by Los Angeles based burlesque queen Miss Mosh the mistress of ceremonies and DJ Lady Bunny took to the stage to bring up Maria Mallardi-Stewart. We interviewed Maria about Alcone for this month's Style Issue and the same collaborative and proud message she emanated there was repeated on Friday as she made a touching speech about her siblings, Vincent Mallardi and Mary Mallardi-Piotrowsky to highlight their achievements over the years.
Alcone remains the best-kept secret behind the scenes of the entertainment industry.