It's November! We're approaching the end of 2017, and a lot has happened since last year – from the debut of fresh-faced models to the progressive and forward-thinking fashion offshoots to social movements and advocacy that substantially influenced the industry and its designers. Fashion has been somewhat commercialized – as designers are listening to what we want, applying a supply-and-demand mechanism. Traditional fashion approaches are beginning to startle with the rise of the internet and a large population of millennials being more involved in the fashion world. Only a month ago, three respected editors left their magazines due to the fear of competition from online publications and media influencers.
Let's consider – Is this approach a sell-out to the prestigious idea of art and fashion? Or is this merely a reaction to our society, forcing designers and the industry to reinvent themselves? This is a round-up of 5 trends in fashion that have been and are influencing the industry's agenda. It is about time to reflect on where fashion and style are heading – do we actually care about the designer's name anymore, or do superstar models, big-name attendees and inclusivity matter more at this time?
This year is truly a year of inclusivity – diverse models of all colors, sexes and sizes are everywhere from the runway to advertising campaigns. The traditional, unattainable model look has been surpassed by a new generation of models who are resemblances of real people. Transgender models walked the high fashion runway of Michael Kors and Christian Siriano, whereas Marc Jacobs' and Brandon Maxwell's shows feature the most racially diverse cast of models. Eckhaus Latta, a German label, raised the bar – by having a pregnant model walking the runway with her baby bump exposed out of an unbuttoned cardigan dress. These designers are slowly diminishing the exclusivity of fashion and expressing their own version of what is acceptable and what is not in the industry.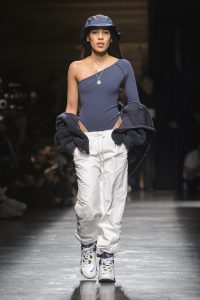 Streetwear and athleisure are prominent elements of this year's Fashion Week – perhaps, due to the progression of today society's fitness culture and healthy habits. From Fenty x Puma to Jonathan Simkhai to Kith, hoodies, sweatpants, and beanies are going down the runway; even denim – a streetwear staple during Fashion Week, is rocking runway style – designers are doubling denim, sending out from polished Canadian tuxedo to outrageous oversized denim coats and one-pieces. Fenty x Puma, perhaps one of the most talked-about shows of the season, established instantly its influences by sportswear and sports gear – ranging from biker shorts to scuba onesies.
These recent years, many new influential faces arose via social media. Last year, we witnessed the rise of Kendall Jenner, Gigi and Bella Hadid, Hailey Baldwin, Emily Ratajkowski in modeling; this year, newcomers from social media such as Lily-Rose Depp, Sofia Richie, and Kaia Gerber made their debut at Fashion Week. Not only that social media influencers are changing how brands cast models for catwalk and campaigns, to an extent, brands are expanding their target audience – paying attention to millennials and younger audience because the rise of mass media allows fashion to no longer be a niche market for exclusive celebrities and middle-aged men and women who can afford and appreciate high fashion.
At the Dolce and Gabbana FW18 show brought a wave of internet faces, like Cameron Dallas, Austin Mahone, Lucky Blue Smith, Sofia Richie and a variety of other celebrity children and social media stars. These names not only bring more attention towards the brand, they also reintroduce the new and fresh elements of the current time to fashion – allowing fashion brands to live and maintain their timelessness.
Social movement: Sustainability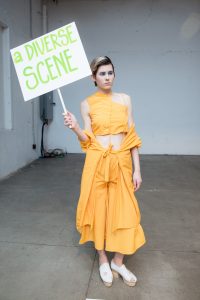 Sustainability in fashion has definitely become a progressive movement. In July, Marie Claire announced their first ever sustainability issue to raise awareness for the environmental impact of the fashion industry. In addition, Emma Watson also created a new fashion Instagram account, showcasing eco-friendly garments and pieces that she wears to attend events. During fashion week, sustainable designers (such as Jenny Lai, Nicholas K, Collina Strada) and sustainable haute couture debuts (such as Alice Potts, Peiyang Zou, Jiaren Du) signaled a dominant and dynamic movement towards renovating the fashion industry.
At this current time, the 21st century, almost everything has been done, has been reinterpreted and been used as inspiration for some kind of design. Recently, four of our most creative designers, Thom Browne, Proenza Schouler, Rodarte, and Altuzarra opted out of NYFW and departed for Paris. Fashion Unfiltered commented that "the majority of NYFW's jam-packed schedule is filled with clothing, not fashion". There were dozens of shows every day, but authenticity wasn't delivered at all of them.
Though, Helmut Lang, Balenciaga, and Marc Jacobs managed to bring the much-needed reinterpretation and creativity to their runway. Last year, mules and fur slippers – notably the ugly shoes trend – was prominent, whereas this year, the ugly shoe game has been up-ed – from Balenciaga's crocs to Loewe's curled toe sneaker to back again at Christopher Kane's jewel-packed crocs. In addition to reinventing the crocs, Helmut Lang's ready to wear spring 2018 reintroduces sex and is all about inventiveness, whereas Marc Jacobs, expresses in his program notes, "[reimagines] seasons past somewhere beyond the urban landscape of New York City".